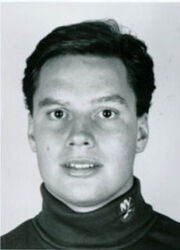 Dennis James Vaske (born October 11, 1967 in Rockford, Illinois, United States) is a retired American ice hockey defenseman.
Vaske started his National Hockey League career with the New York Islanders in 1991. He also played for the Boston Bruins. He retired after the 1999 season.
He played for the University of Minnesota at Duluth from 1986 to 1990. The New York Islanders chose him 38th overall in the 1986 NHL Entry Draft. He turned pro in 1990-1991 and split three seasons between the Islanders and the Capital District Islanders. He also played for the United States in the 1992 World Championship.
Vaske became an Islanders regular in 1993-94. Unfortunately he had the misfortunes of suffering no fewer than three serious head injuries in three straight seasons (1995-96, 1996-97, and 1997-98) - all in November. In fact the first and the third happened on the same dates - November 22. Each injury caused him to miss the rest of the seasons.
He was advised to retire after the third injury. However, he signed with the Boston Bruins as a free agent but only lasted three games in the NHL. He retired after the end of the season after playing for the Providence Bruins.
In the NHL Vaske played in 235 games and scored 5 goals and 41 assists. He was known as a defensive defenceman.
External links