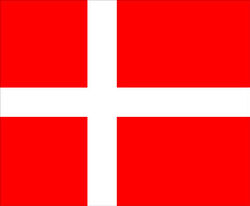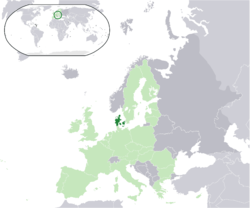 Denmark is a nation in western Europe.
It has a population of over 5,500,000.
Its capital and largest city is Copenhagen.
Denmark

Info

Rinks

Players

Referees

77


Population

5,540,241

Indoor

22

Total

4,056

Male

--

Capital

Copenhagen

Outdoor

0

Male

1,719

Female

--

IIHF Since

April 27 1946

Junior

2,038

Female

301
The Danish men's national hockey team is the national ice hockey team for Denmark. The team is controlled by Danmarks Ishockey Union. As of 2007 the Danish team was ranked 12th in the IIHF World Rankings. After not qualifying for a world championship since 1949, Denmark surprised many in 2003 by finishing in 11th place, including a tie game against that year's champions Canada.[1] Denmark currently has 4,056 players (0.07% of its population). Their coach is Swede Per Bäckman, who replaced Canadian Mike Sirant who was fired after the team finished in 12th place at the 2008 World Championships. Denmark once held the record for the largest loss when they were defeated by Canada in 1949, 47 - 0, only being surpassed by New Zealand who were defeated by Australia 58 - 0 in 1987.
In 2003, Denmark was back in the elite pool of the IIHF World Championships after 54 years. The Danish national hockey team scored two historic, unexpected upsets in Tampere, Finland, defeating the United States 5-2 on April 26, 2003 and tied Canada 2-2 six days later on May 2, 2003. Denmark has remained in the top division ever since. At the 2010 World Championships Denmark finished 8th place, which is their best ever placing to date. Denmarks Womens, U20, and U18 teams have also participated at the world championships


The first hockey games were played in Denmark during the early 1900s. The growth of hockey proceeded slowly, and Denmark did not join the International Ice Hockey Federation until 1946. The Danish Ice Hockey Federation was founded in 1949. The same year, Denmark participated in the World Championships for the first time, and was defeated by Canada 0-47.

There are currently 2 leagues in Denmark, the Oddset Ligaen, and the Danish Division 1.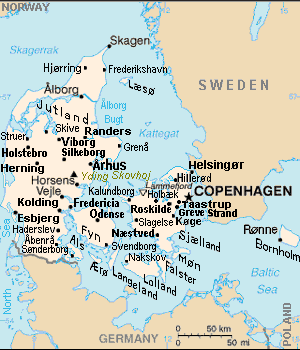 National Teams
Leagues
Danish Division 1

Danish U20
See Also