Denman Arena was the main sports arena located in downtown Vancouver, British Columbia. It was built at a cost of $300,000 in 1911 and held 10,500 people, making it one of the world's largest arenas when it was built. It burned down in 1936 after an explosion at an adjacent Coal Harbour shed. In fact, firemen at one point were worried the whole west end of Vancouver might go up in flames. During its existence, it hosted the Pacific Coast Hockey Association's Vancouver Millionaires (which won a Stanley Cup on home ice at Denman Arena) and New Westminster Royals. Frank and Lester Patrick were owners of the team and arena.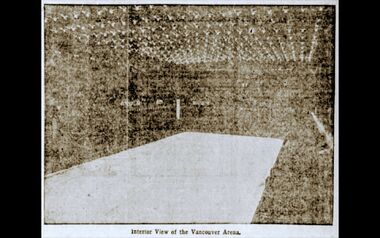 It was one of the first two artificial ice surfaces in Canada along with the Patrick Arena in Victoria.
The arena was located on Denman Street in Vancouver's West End and was bound by West Georgia, Alberni and Bidwell streets.
References
Cyclone Taylor: A Hockey Legend by Eric Whitehead