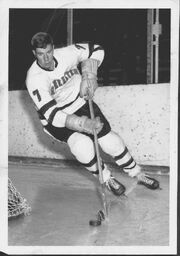 David Poile (born February 14, 1950 in Toronto, Ontario) is the Executive Vice President of Hockey Operations and General Manager of the NHL's Nashville Predators.
Poile began his career in the NHL as an Administrative Assistant with the then expansion Atlanta Flames in 1972 shortly after graduating from Northeastern University in Boston, Massachusetts. At Northeastern, Poile was a successful hockey player, and still holds the record for most career hat tricks with 11. Five years after joining the Flames organization he was named as the assistant general manager.
Poile left the Flames to become the Vice President and General Manager of the Washington Capitals. He served in that capacity for fifteen years. During his time in Washington he was quite successful and the Capitals amassed a 594-454-124 record under his control.
After working in Washington, Poile took the position with the then expansion Nashville Predators. He has proven to make many shrewd moves and has created a competitive team over the last 2 seasons with a limited budget.
Poile served as general manager of the 1998 and 1999 U.S. National Team for the International Ice Hockey Federation World Championships.
He was awarded the Lester Patrick Trophy in 2001, making him and his father Bud Poile one of six father-son combinations to win the award.
External links
Edit
Community content is available under
CC-BY-SA
unless otherwise noted.