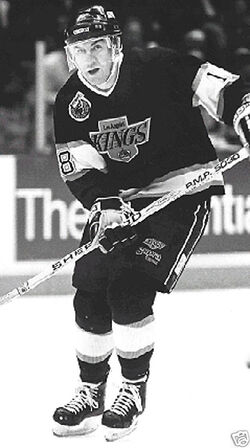 Dave Taylor (born December 4, 1955 in Levack, Ontario) is a retired professional player (L.A. Kings, 1977–94) and the current Director of Player Personnel for the Dallas Stars of the NHL. He was previously the L.A. Kings General Manager from 1997 to 2006.
Played collegiate hockey at Clarkson University, where he still holds the school record for career points (251) goals (98) and assists (153) as well as single season goals (41) assists (67) and points (108) in the 1976–77 campaign; in comparison, opposing teams scored a combined 127 goals on Clarkson that year.
Taylor was a member of the Triple Crown Line along with center Marcel Dionne and left winger Charlie Simmer. All three scored more than 100 points in the 1980–81 season with the LA Kings; Taylor scoring 112 points that season (with Dionne and Simmer scoring 135 and 105 points, respectively). He holds the Kings record for games played with 1111.
Career statistics
[
]
 
 
Regular Season
 
Playoffs
Season
Team
League
GP
G
A
Pts
PIM
GP
G
A
Pts
PIM
1974–75
Clarkson Knights
ECAC
32
20
34
54
--
--
--
--
--
--
1975–76
Clarkson Knights
ECAC
31
26
33
59
--
--
--
--
--
--
1976–77
Clarkson Knights
ECAC
34
41
67
108
--
--
--
--
--
--
1976–77
Fort Worth Texans
CHL
7
2
4
6
2
--
--
--
--
--
1977–78
Los Angeles Kings
NHL
64
22
21
43
47
2
0
0
0
5
1978–79
Los Angeles Kings
NHL
78
43
48
91
124
2
0
0
0
2
1979–80
Los Angeles Kings
NHL
61
37
53
90
72
4
2
1
3
4
1980–81
Los Angeles Kings
NHL
72
47
65
112
130
4
2
2
4
10
1981–82
Los Angeles Kings
NHL
78
39
67
106
130
10
4
6
10
20
1982–83
Los Angeles Kings
NHL
46
21
37
58
76
--
--
--
--
--
1983–84
Los Angeles Kings
NHL
63
20
49
69
91
--
--
--
--
--
1984–85
Los Angeles Kings
NHL
79
41
51
92
132
3
2
2
4
8
1985–86
Los Angeles Kings
NHL
76
33
38
71
110
--
--
--
--
--
1986–87
Los Angeles Kings
NHL
67
18
44
62
84
5
2
3
5
6
1987–88
Los Angeles Kings
NHL
68
26
41
67
129
5
3
3
6
6
1988–89
Los Angeles Kings
NHL
70
26
37
63
80
11
1
5
6
19
1989–90
Los Angeles Kings
NHL
58
15
26
41
96
6
4
4
8
2
1990–91
Los Angeles Kings
NHL
73
23
30
53
148
12
2
1
3
12
1991–92
Los Angeles Kings
NHL
77
10
19
29
63
6
1
1
2
20
1992–93
Los Angeles Kings
NHL
48
6
9
15
49
22
3
5
8
31
1993–94
Los Angeles Kings
NHL
33
4
3
7
28
--
--
--
--
--
NHL Totals
1111
431
638
1069
1589
92
26
33
59
145
References
[
]