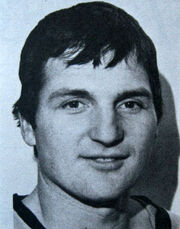 David Nathan Tataryn (born July 17, 1950 in Sudbury, Ontario) is a retired professional ice hockey goaltender who played two games in the National Hockey League and 23 in the World Hockey Association. He played with the New York Rangers and Toronto Toros.
He played junior hockey for the Niagara Falls Flyers from 1967 to 1970, winning the Memorial Cup in 1967-68 Memorial Cup Final. The St. Louis Blues chose him 104th overall in the 1970 NHL Amateur Draft.
After sitting out the 1970-71 season, Tataryn played in 1971-72 for the University of Toronto and from 1972 to 1975 with Laurentian University. The Toronto Toros signed him as a free agent in 1975 and he played 23 games for them in 1975-76.
Tataryn signed with the New York Rangers in 1976 and played in two games for them in 1976-77.
He later finished his career with the senior Cambridge Hornets and retired in 1984.
Gallery
References