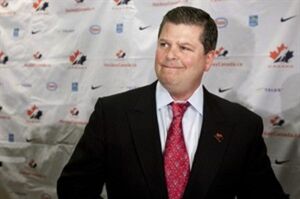 David M. Nonis (born May 25, 1966 in Burnaby, British Columbia) is a former Canadian ice hockey defenceman, former general manager and executive of the National Hockey League's Vancouver Canucks and current General manager of the Toronto Maple Leafs.
Playing career
[
]
Growing up in Burnaby, B.C., Nonis played junior hockey with the Burnaby Bluehawks of the BCJHL in 1982–83. He then began collegiate hockey in the NCAA at the University of Maine, playing 153 games from 1984 through 1988. Nonis spent his final two years for the Bears as team captain, leading Maine to back-to-back NCAA championship tournaments. After completing his Bachelor of Arts degree in 1988, Nonis played a year of professional hockey in Denmark and in 1989 returned to the University of Maine as an assistant coach for one season.
Executive career
[
]
Nonis replaced Brian Burke as the Vancouver Canucks' general manager in 2004. Prior to being GM for the Canucks, he spent six years working closely with Burke as Senior Vice President and Director of Hockey Operations for the franchise. In three seasons as general manager, his most significant transaction was trading for superstar goaltender Roberto Luongo from the Florida Panthers at the conclusion of his first season as GM. Upon the completion of the 2007–08 season, the Canucks missed the playoffs for the second time in three seasons; subsequently, on April 14, 2008, Nonis was relieved of his duties as general manager of the Canucks.
A couple of months later June 20, 2008, he was hired as Senior Advisor of Hockey Operations for the Anaheim Ducks. It came as no surprise, as Brian Burke had just been hired by the Ducks as General Manager.
On December 4, 2008, Nonis accepted the position of Senior Vice President and Director of Hockey Operations of the Toronto Maple Leafs. Nonis accepted the post so it will mark the third time he has served under Brian Burke.
External links
[
]