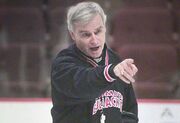 W. David King, (born December 22, 1947 in North Battleford, Saskatchewan) is a Canadian hockey coach who has been head coach in the National Hockey League, the Russian Super League, the Winter Olympics, and the International Ice Hockey Federation World Junior Championships.
King's first coaching job was as an assistant coach with the University of Saskatchewan in the 1972–73 season. He later coached the Billings Bighorns of the Western Hockey League and returned to Saskatchewan, winning three conference championships and being named 1980 Canadian Interuniversity Athletics Union coach of the year. He led Saskatchewan to the CIAU national title in 1983. At the same time, he was the head coach of Canada's national junior team, and helped guide the team to a gold medal at the 1982 International Ice Hockey Federation world junior championships and a bronze medal at the 1983 world junior championships. He was head coach of the Canadian national team at the 1984, 1988, and 1992 Winter Olympics, finishing fourth in 1984 and 1988, and winning a silver medal in 1992. He also coached the Canadian national team at five International Ice Hockey Federation world championships. In 1987 he coached Canada to the gold medal in the Isvestia Cup tournament in Moscow, becoming the first Canadian team to defeat the Soviet national team in U.S.S.R. since the 1972 Summit Series.
King was hired by the Calgary Flames in 1992 and coached there until 1995. He was assistant coach with the Montreal Canadiens from 1997 to 1999 and then became the first coach of the expansion Columbus Blue Jackets in their inaugural 2000–01 season through 2002–03.
Outside of the NHL, King coached Metallurg Magnitogorsk of the Russian Super League and in 2006, was the head coach of the Swedish team Malmö Redhawks of the Swedish Elite League.
Based on his experiences in Russia, King co-authored a book with sports journalist Eric Duhatschek. Titled King of Russia: A Year in the Russian Super League, the book was released in October 2007.
On December 22, 2007, King became the head coach of the Adler Mannheim of the Deutsche Eishockey Liga (DEL). By end of January, 2009, he told the public that he would not sign a new contract as a head coach for Adler Mannheim. On February 28, 2009, one game before the end of the 2008-09 regular season, he was released and replaced by his assistant coach Teal Fowler. After the announcement of his retirement, the team had only won 14 out of 42 possible points in the league.
In 2015, he was inducted into the Saskatchewan Hockey Hall of Fame.
Coaching record
[
]
Team
Year
Regular season
Post season
G
W
L
T
OTL
Pts
Division rank
Result
CGY
1992-93
84
43
30
11
-
97
2nd in Smythe
Lost in First Round
CGY
1993-94
84
42
29
13
-
89
1st in Smythe
Lost in First Round
CGY
1994-95
48
24
17
7
-
(53
1st in Smythe
Lost in First Round
CBJ
2000-01
82
28
39
9
6
71
5th in Central
Missed Playoffs
CBJ
2001-02
82
22
47
85
5
57
5th in Central
Missed Playoffs
CBJ
2001-02
40
14
20
4
2
(69)
5th in Central
(fired)
Total
420
173
182
52
13