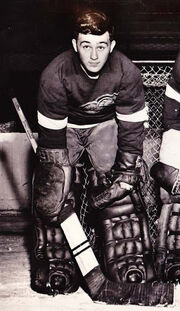 David Gatherum (born March 28, 1932 in Fort William, Ontario) is a former professional ice hockey goaltender.
He played junior hockey with the Fort William Hurricanes from 1948 to 1952. In 1952-53 he turned pro with the Shawinigan Falls Cataractes and the Edmonton Flyers.
In October, 1953, Gatherum was called up by the Detroit Red Wings to replace the injured Terry Sawchuk. In his first game, Gatherum shut out the Toronto Maple Leafs 4-0 on October 11, 1953. He then held the Chicago Blackhawks scoreless until early in the third period of the 2-2 tie game on October 16. He ended up with a 2-0-1 record in three games but was never recalled to the NHL. His name was put on the Stanley Cup as the Wings won it in 1953-54. Gatherum held the record for longest shutout streak to start an NHL career (100.21 minutes) until 2011 when it was surpassed by Matt Hackett.
Gatherum played one more season of minor pro and then settled in with the senior Kelowna Packers from 1955 to 1959.
External Links
[
]