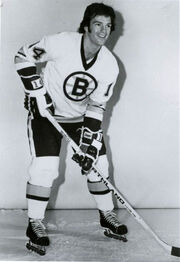 David Stephen Forbes (born November 16, 1948 in Montreal, Quebec) is a retired Canadian ice hockey player.
Forbes played one season with the junior Lachine Maroons (1966–67) and then went to American International University from 1967 to 1971. He played for the Boston Bruins' farm teams in 1971-72 and 1972-73.
Signed as a free agent in 1973 by the Boston Bruins, Forbes made an impact as a defensive-minded forward as he helped guide the Bruins to the finals in 1974 during his rookie season, and to the finals in 1977. Forbes played four seasons with Boston until he was claimed by the Washington Capitals in the Waiver Draft prior to the 1977–78 season. After playing one season with the Capitals, he was released after only playing two games during the 1978–79 season and signed to play for the Cincinnati Stingers of the World Hockey Association.
He retired in the 1979-80 season and became the coach of the Binghamton Dusters for the balance of the season.
At 8:22 of the first period of the Boston-Minnesota game on January 4, 1975, Dave Forbes checked Henry Boucha into the boards in the North Stars corner. Boucha took exception and suckered punched Forbes. A melee ensued which quickly died down. Terry O'Reilly was deemed to be the third man in and was given a game misconduct. Boucha and Forbes were each given seven penalty minutes and both went to the box without any overt animosity. However, as soon as their penalties expired and they took to the ice, Forbes butt ended Boucha in the face, fracturing his eye socket. Another melee ensued but quickly ended as the extend of Boucha's injury was realized. Bleeding profusely, Boucha was stretchered off. When the dust settled, Boston was short handed for ten minutes, which they killed off. The Bruins went on to win 8-0, scoring a short handed goal and seven power plays goals, an NHL record. Forbes was given a ten game suspension and charged with aggravated assault. His trail ended in a hung jury. Forbes and the Bruins settled a civil case by paying Boucha in excess of one million dollars. Boucha made a comeback, playing the next season for the Kansas City Scouts and the Minnesota Fighting Saints of the WHA but with his vision permanently affected, he retired from pro hockey.
Community content is available under
CC-BY-SA
unless otherwise noted.