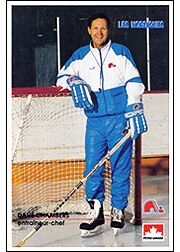 Dave Chambers (born May 7, 1940, in Leaside, Ontario) is a former Canadian ice hockey coach. Dave coached in the National Hockey League for 3 years.He was the assistant coach for the Minnesota North Stars in 1989-90 and the head coach of the Quebec Nordiques from 1990-92. He was the head coach of the Canadian National Junior Team, Gold Medal, Moscow 1988, the Canadian Student National Team, Silver Medal, 1985, Canadian Under 18 Team, Winner series with U.S.A, 1986, 1987, Ontario under 17 team, winner series with Soviet team, Team Canada Spengler Cup Swiss, Gold Medals 1985, 1987.
Dave was a head coach in the Ontario and Western Canadian Universities and NCCA (USA) for 14 years at the University of Saskatchewan, University of Guelph,York University, and Ohio State University. During that time his teams won 3 Ontario Championships, 1 Canadian National Championship and 1 Central Collegiate (CCHA-NCAA) Championship. Dave's overall university coaching record is 334 wins, 110 loses, 11 ties and .750 winning percentage and 3 Coach of the Year Awards. Dave also coached 1 year in the Ontario Major Junior Hockey League with the Toronto Marlboros and won the Coach of the Year Award, 1980.
He played defence in the major junior Ontario Hockey League from 1956-1960. He also played for the University of Toronto and the University of British Columbia. He won the Most Valuable Player Award at U. of Toronto and was on the all star team in both the Ontario and Western Intercollegiate leagues. He also played in the early development of the Canadian National team.
Dave was an all round athlete who also played football for the University of Toronto.
Dave has been inducted in the Sports Hall of Fame at York University, 2005, and The University of British Columbia,2012.
Dave was a professor in the School of Kinesiology at York University in Toronto, Director of the Coaching Program, and published 6 books and numerous articles relating to coaching and training methods.Two of those books,The Hockey Drill Book published by Human Kinetics Pub. and Coaching:The Art and Science published by Firefly Books, have been translated by the Russian Sport Federation.
Community content is available under
CC-BY-SA
unless otherwise noted.