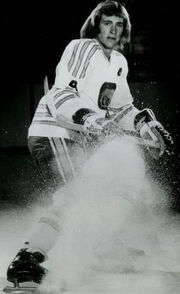 Darryl Maggs (born April 6, 1947 in Saskatoon, Saskatchewan) is a retired professional ice hockey Defenceman who played 135 games in the National Hockey League and 402 games in the World Hockey Association. He played for the Chicago Black Hawks, California Golden Seals, Denver Spurs, Ottawa Civics, Indianapolis Racers, Cincinnati Stingers, and Toronto Maple Leafs.
He played junior hockey for the Calgary Centennials and was drafted 48th overall by the Chicago Blackhawks in the 1969 NHL Amateur Draft. Maggs took a year off to attend and play for the University of Calgary before embarking on his pro career in 1970.
After a year with the Dallas Black Hawks Maggs made the Chicago lineup in 1971-72. But the next season he was traded to the California Golden Seals for Dick Redmond and Bobby Sheehan.
In 1973 Maggs jumped to the Chicago Cougars of the World Hockey Association and started on a five year career in the league with four different teams. In the middle of the 1978-79 season he moved to Germany and played out the year with Mannheimer EC.
A five game tryout with the Toronto Maple Leafs in 1979-80 did not result in a roster spot so Maggs retired.
In the NHL Maggs played in 135 games and scored 14 goals and 19 assists. In the WHA Maggs scored 51 goals and 177 assists in 402 games.
Gallery
[
]
External Links
[
]