Darron-Ann Richardson
Position
Forward
Team
Ashbury College
Ottawa Senators Women's Bantam
Born
February 8, 1996
Edmonton, AB, CAN
,
Died
November 13 2010 (aged 14),
Ottawa, ON, CAN
Pro Career
– 2010

Daron Richardson (daughter of former NHL hockey player and Montreal Canadiens assistant coach Luke Richardson) was a competitive ice hockey player in the Ottawa, Ontario Darron passed away on November 13, 2010. Daron is survived by her father and mother, Stephanie, and sister, Morgan Richardson, 16.[1] Richardson played for Team Angela James at the 2010 Ontario Winter Games in Muskoka from March 4-7, 2010. [2]
Tributes
On November 18, 2010, 5,600 mourners attended a celebration of life ceremony for Daron at Scotiabank Place.[3] She passed away after trying to commit suicide in the family home. In a rare and unusual move, the Richardson family decided to share the circumstances of her death and hold a public memorial.[4] Of note, the Philadelphia Flyers (one of Luke Richardson's former team) held a moment of silence for Daron before their game on November 16.[5]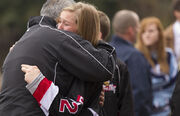 In February 2011, three months after the passing of Daron Richardson, the Yale Bulldogs women's ice hockey team were inspired to raise awareness of youth mental health issues. Freshman forward Jenna Ciotti played with Daron's sister, Morgan on the Ottawa Senators of the PWHL. In addition, Ciotti was also coached by Daron's father, Luke Richardson. The Bulldogs' support for the Do It For Daron charity was symbolized by the purple wristbands the club wore during the month of February and March in the 2010–11 Yale Bulldogs women's ice hockey season. She played on the PWHL Senators with Morgan Richardson (under Luke Richardson's coaching) for two seasons. Ciotti wanted the bracelets to keep Daron's spirit alive and support the Richardson family. [6]
On Thursday, February 17th, 2011, the Ontario Women's Hockey Association Canada Winter Games team played a group of Team OWHA selects (birth years 1994 and 1995) at the Westwood Arena in Toronto. All players will wear a purple heart with the letters "D.I.F.D." on their left shoulder. Luke Richardson will coach on the OWHA select team, with his daughter Morgan Richardson playing for the selects.[7]
Other
Outside of hockey, other athletes dedicated performances or matches to the memory of Daron. In July 2011, a fundraiser was held at Ottawa Stadium in her honour. Former professional baseball players from the Toronto Blue Jays (Duane Ward, Devon White, Candy Maldonado, Alex Gonzalez and Denis Boucher) faced a team of local media and sports celebrities.[8] Canadian Olympian Clara Hughes is an advocate for youth mental health awareness as the face of the Let's Talk campaign. In May 2012, she dedicated her victory in the Chrono Gatineau cycling time trials to Daron and her family.[9]
DIFD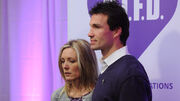 On February 2, 2011, the Richardson family decided to raise awareness of teen suicide and depression in hopes of preventing further tragedies like this from occurring. Luke Richardson, the Royal Ottawa Foundation for Mental Health, the Sens Foundation and the Ottawa Senators announced the creation of a program to inspire conversations about youth mental health. One of the initiatives is the D.I.F.D. Purple Pledge Day on Feb. 8, 2011, when thousands of people in schools, on hockey teams and in the business community wore purple and pledged their support to the Daron Richardson Fund. South Carleton High School in Richmond, Ontario, friends of Daron wearing purple sold bracelets with Daron's name, or D.I.F.D. on them. The hope was to honour her memory while raising money to prevent teenage suicide.[10] Feb. 8 marks what would have been Daron's 15th birthday.[11]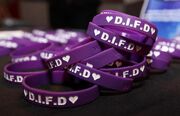 On February 26th, 2011, the Ottawa Senators Foundation and Ottawa Senators will host the first annual D.I.F.D. (Do it for Daron) Youth Mental Health Awareness Night at Scotiabank Place. Before the Senators played the Philadelphia Flyers on Saturday, Feb. 26, Luke Richardson and the youth who created the D.I.F.D. purple heart logos that were designed to inspire conversations about mental health will take part in a ceremonial faceoff.[12] In addition, the players on both the Senators and Flyers teams wore the D.I.F.D. purple hearts on their helmets. The Feb. 26 event highlighted for fans the issues of youth mental illness, and promoted organizations and resources within the community that offer mental health support services to youth and their families. The Richardson family announced a personal donation of $100,000 to match the generosity of what the community has contributed to the Daron Richardson Fund at the Royal Ottawa Foundation for Mental Health.[13]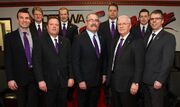 In the second annual edition of the Youth Mental Health Awareness Night (held February 4, 2012), Canadian Olympic athlete Clara Hughes participated in the ceremonial faceoff of the Senators – Toronto Maple Leafs match.[14] Her involvement in the faceoff was attributed to her role as spokeswoman for the Bell Let's Talk campaign, which encourages Canadians to talk about mental illness.
In autumn 2011, former Toronto Maple Leafs player Bryan Berard and figure skater Marie-France Dubreuil announced the DIFD cause as their charity of choice as competitors on CBC television's series

Battle of the Blades

.[15]
On February 4, 2012, the Carleton Lady Ravens ice hockey team honoured the memory of the late Daron Richardson, daughter of Ottawa Senators assistant coach, Luke Richardson. The club held a charity drive for the Daron Richardson Fund (known as Do It For Daron), a program focused on raising awareness about youth mental health. Bruce MacDonald, Daron's former coach and the father of Ravens player Kristen MacDonald participated in the ceremonial face off.[16]
Game scores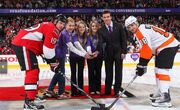 | | | | | | |
| --- | --- | --- | --- | --- | --- |
| Date | Opponent | Score | Attendance | Senators scorers | Other scorers |
| February 26, 2011 | Philadelphia Flyers | 4-1, Senators | 19,934 | Nick Foligno, C. Phillips, E. Condra (2) | Scott Hartnell[17] |
| February 4, 2012 | Toronto Maple Leafs | 5-0, Maple Leafs | | None | Phil Kessel, Tyler Bozak, Dion Phaneuf, Luke Schenn, Cody Franzen |
Personal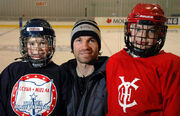 Richardson learned to water ski at three, and took her first bungee jump at five. She attended private schools and visited areas such as Paris, Italy and the Galapagos Islands.[20] Caitlyn McLaren, a teammate remembered the two talking about being one another's bridesmaids, and dreaming of one day playing hockey at the Olympics. [21]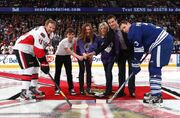 During the 2011–12 Canada women's national ice hockey team season, her sister Morgan was a member of the Canadian National Under 18 team that participated in a three game series vs. the USA in August 2011.[22] She was also part of the gold medal winning Canadian squad at the 2012 IIHF World Women's U18 Championship. In the gold medal game, she registered no points.[23]
References