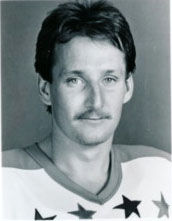 Darren William Veitch (born April 24, 1960 in Saskatoon, Saskatchewan) is a retired former professional ice hockey player whose career was beset by injuries. He won a Memorial Cup with the Regina Pats in 1980 to cap off a stellar junior career. He played 511 career NHL games for the Washington Capitals, Detroit Red Wings and Toronto Maple Leafs, and was once named The Hockey News's "Comeback Player of the Year" after badly injuring his arm falling through a glass coffee table after slipping at home on one of his children's toys. He was often unfairly compared to Paul Coffey, a fellow defenceman selected immediately after him in the 1980 NHL Entry Draft. He played his last NHL game in 1991 and bounced around the minor leagues before finally retiring in 1999.
He was chosen 5th overall by the Washington Capitals in the 1980 NHL Entry Draft. He played six seasons for the Capitals, four of them split with the Capitals' farm team Hershey Bears. Veitch never became a star with the Capitals.
A trade to the Detroit Red Wings in 1985 gave him a new lease on life. In 1986-87 he scored 13 goals and 45 assists (an NHL career high). But management blamed him (and 5 others) for the Wings' elimination from the playoffs. Veitch was traded to the Toronto Maple Leafs.
He split his time between the Leafs and the farm team Newmarket Saints until he was traded to the St. Louis Blues in 1991. But he never played a game for the Blues, playing instead for their farm team the Peoria Rivermen.
Veitch retired in 1996 but had a comeback for two seasons in 1997-98 and 1998-99 with the Phoenix Mustangs of the West Coast Hockey League.
He scored 48 goals and 209 assists in 511 NHL games played.
External Links