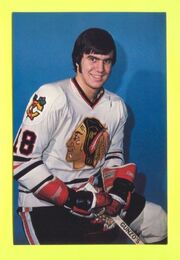 Darcy Irwin Rota (b. February 16th 1953 in Vancouver, British Columbia, Canada) is a retired professional left winger. Selected thirteen overall by the Chicago Blackhawks in the 1973 NHL Amateur Draft, he played eleven seasons in the National Hockey League.
Scoring ace at the junior level, he became an instant hit in the NHL with the Hawks as he was put on a line with Stan Mikita and Cliff Koroll. He kept being a consistant player through the years, until the Blackhawks traded him away with Ivan Boldirev and Phil Russell to the Atlanta Flames in return for Tom Lysiak, Pat Ribble, Harold Phillipoff, Greg Fox and Miles Zaharko. His stay with the Flames lasted a little bit more than one season; he and Boldirev were traded to the Vancouver Canucks for Don Lever and Brad Smith in 1980. There, his career lifted off. He scored 42 times and collected 81 points for the 1982-83 NHL season, a career-best. The following season however, he was injured to the neck in a game versus the Los Angeles Kings. He missed the whole 1984-85 season recovering and had to announce his retirement.
Today, Rota is the general manager of the Burnaby Express of the BCHL.