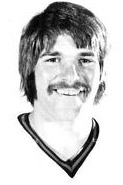 Danny Gruen (born June 26, 1952 in Thunder Bay, Ontario) is a retired professional ice hockey player who played 49 games in the National Hockey League and 181 games in the World Hockey Association. He played with the Colorado Rockies, Detroit Red Wings, Michigan Stags, Winnipeg Jets, Cleveland Crusaders, Calgary Cowboys, and Minnesota Fighting Saints.
He played junior hockey for the Fort William Canadiens and the Thunder Bay Vulcans. The Detroit Red Wings chose him 58th overall in the 1972 NHL Amateur Draft. He spent two seasons (1972-73 and 1973-74) in the Wings system and played 20 games for the NHL team.
In 1974-75 he jumped to the Michigan Stags of the World Hockey Association (WHA). After the team moved to become the Baltimore Blades and then folded Gruen ended the season with the Winnipeg Jets. He played the next two seasons in the WHA for the Cleveland Crusaders, Minnesota Fighting Saints, and Calgary Cowboys.
In the middle of the 1976-77 season Gruen signed with the Colorado Rockies of the NHL, who had accquired his rights from Detroit. He played 29 games for them that season, scoring 8 goals and 10 assists. THe next season, however, he did not make the NHL team and was assigned to the minors. He played in the minor pros for three more seasons before retiring in 1980.
He made a one season comeback in 1982-83 with the senior Thunder Bay Twins.
References