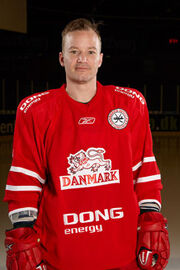 Daniel Nielsen (born October 31, 1980 in Herning, Denmark) is a retired Danish defenceman.
He played virtually his entire pro career with the Herning Blue Fox team in the Danish AL-Bank Ligaen. Nielsen played for them from 1998-99 to 2009-10 except for the 2007-08 season when he played with Leksands IF in the Allsvenskan.
He was an all-star in 2006, 2007, and 2009. In 2007 he was named the league's best player.
Nielsen represented Denmark in the following: