Danbury Whalers

City:
Danbury, Connecticut
League:
Federal Hockey League
Founded:
2010
Home Arena:
Danbury Ice Arena
Colors:
Green, white, navy


    

    

    

Owner(s):
Danbury Whalers LLC (Alan Friedman, Senior Partner, President, CFO Herm Sorcher - CEO/Managing Partner, Lawrence Sorcher - Chairman, Jarrod Moses - Partner, Chief Marketing Officer, Sam Tobias - Partner, Gregg Konopaske - Partner, & Michael Barnes - Partner)
Head Coach:
Phil Esposito
Media:

The News-Times

Franchise history
2010-present:
Danbury Whalers
Championships
Regular Season Titles:
1 (2013-14)
Playoff Championships:
1 (2012-13)
The Danbury Whalers are a minor league professional ice hockey team in the Federal Hockey League that began play in the 2010-11 season. Based in Danbury, Connecticut, the Whalers play at the Danbury Ice Arena, located in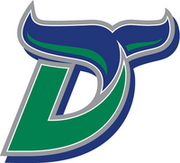 CityCenter Danbury. Their name comes from the Hartford Whalers who were a professional ice hockey team based in Connecticut and played in Hartford from 1975-1997 before relocating to Carolina.
As of the 2014-15 season, the Danbury Whalers are an affiliate of the Evansville IceMen of the ECHL.[1]
On March 22, 2013, the Whalers won their first FHL Commissioner's Cup Title by sweeping the Dayton Demonz in front of a home standing-room only crowd of 3,116 fans.[2]
The Danbury Whalers have led the FHL in home attendance in each of the five years of the league's existence.
As of the end of April 2015 the team was homeless as the management of the Danbury Ice Arena declined to renew the lease for the team and had an eviction notice issued in Mid-April for April 30th. The New Haven area may be a possible desitnation for the team as the team had played a pre-season game in 2011 at the Veteran's Memorial Ice Rink in East Haven, Connecticut. The Whalers head coad Phil Esposito is a native of East Haven.
Season-by-season record
| | | | | | | | | | |
| --- | --- | --- | --- | --- | --- | --- | --- | --- | --- |
| Season | GP | W | L | OTL | Pts | GF | GA | Finish | Playoffs |
| 2010-11 | 47 | 24 | 18 | 5 | 53 | 184 | 173 | 4th of 6 FHL | Lost in 1st round series (2-3 vs. New York Aviators) |
| 2011-12 | 51 | 30 | 20 | 1 | 89 | 207 | 185 | 3rd of 8 FHL | Lost in FHL Finals series (0-3 vs. New Jersey Outlaws) |
| 2012-13 | 51 | 28 | 17 | 6 | 86 | 218 | 188 | 2nd of 4 FHL | Won FHL Championship Series (3-0 vs. Dayton Demonz) |
| 2013-14 | 56 | 37 | 11 | 8 | 117 | 241 | 160 | 1st of 4 FHL | Lost in FHL Finals series (2-3 vs. Dayton Demonz) |
| 2014-15 | 54 | 27 | 21 | 6 | 84 | 204 | 186 | 4th of 6 FHL | Lost in FHL Semifinals series (1-2 vs Watertown Wolves) |
References
External links