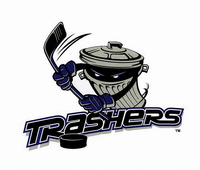 The Danbury Trashers were a United Hockey League ice hockey team located in Danbury, Connecticut. They played their home games at the Danbury Ice Arena.
The team was first established in the 2004-2005 season, as an expansion team. The team was sponsored by the AWD waste disposal company and owned by A.J. Galante, son of AWD CEO James Galante.
The Trashers' first season was fairly successful, ending with elimination in the semi-final round of the Colonial Cup Playoffs by the defending champions, the Muskegon Fury.
The Trashers won the UHL East Division in 2005-06. They also went undefeated in regulation during the entire month of December 2005, boasting a record of 11-0-3. The Trashers lost in the 2005-06 UHL Finals 4 games to 1 to the Kalamazoo K-Wings. They were the only team to beat Kalamazoo in the postseason.
Controversy
[
]
In June, 2006, twenty-nine people, including James Galante and former Trashers' coach Todd Stirling, were indicted for various fraud charges which included defrauding the United Hockey League in the Trashers' operation. Among the indictees was Matthew Ianniello of Old Westbury, NY, a reputed boss in the Genovese crime family. By June 2008, Galante, Stirling, and Ianniello had all pled guilty to the charges.
Among the allegations, Stirling and Galante allegedly violated the UHL's $275,000/team salary cap by giving several players and their wives no-show jobs with AWD and hiding illegitimate payments as housing allowances, according to the indictment, which stated that the Trashers' real payroll was nearly $750,000.
Amidst these allegations, and with the dissolution of most of the Eastern Division (especially the concurrent suspension of the Adirondack team) the Danbury Trashers suspended operations. They were replaced by the New England Stars, who competed with three other teams in the North Eastern Hockey League.
The UHL never formally revoked the franchise, but especially with the Elmira Jackals (the only other team east of the Great Lakes region) leaving the league for the ECHL for the 2007-2008 season, the team never returned.
External links
[
]