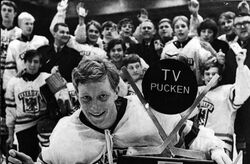 Dan Labraaten (born September 5, 1951 in Arvika, Sweden) is a retired professional ice hockey player and scout for the New Jersey Devils who played 268 games in the National Hockey League and 111 games in the World Hockey Association. He played for the Calgary Flames, Detroit Red Wings, and Winnipeg Jets.
He played in Sweden for Grums IK and Leksands IF from 1966 to 1976. In that year he signed as a free agent with the Winnipeg Jets of the World Hockey Association and played there for two seasons. In 1978 the Detroit Red Wings signed him and kept him until 1981 when he was traded to the Calgary Flames for Earl Ingarfield, Jr.. Labraaten stayed with the Flames until 1982.
In the WHA Labraaten played in 111 games and scored 42 goals and 43 assists. In the NHL he scored 71 goals and 73 assists in 268 games.
After 1982 Labraaten returned to Sweden and played for Leksands IF until his retirement in 1988.
He also played many times for Sweden in international play:
1968, 1969, 1970 European Junior Championships
External links