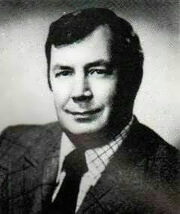 Patrick Daniel Kelly (September 17, 1936 in Ottawa, Ontario – February 10, 1989 in Chesterfield, Missouri) was a Canadian-born sportscaster best known for his radio play-by-play coverage of the St. Louis Blues of the National Hockey League, from early in their existence until his death more than two decades later.
Biography
[
]
Broadcasting NHL games on national television
[
]
In addition to the Blues, Kelly broadcast NHL games on national television in the United States and Canada for a number of years. He broadcast in 16 Stanley Cup Finals between 1969 and 1988, working for CBS, the NHL Network, the USA Network, CBC, CTV, and Canwest-Global. He also provided play-by-play coverage of the 1987 Canada Cup and was the lead play-by-play hockey announcer for CTV at the 1988 Winter Olympics in Calgary.
Memorable calls
[
]
He was noted for his ability to project above the roaring crowds at the NHL arenas. He acknowledged that his booming call, "HE SHOOTS HE SCORES!" was patterned after that of the famous long-time NHL announcer Foster Hewitt.
Kelly called two of the most famous goals in hockey history. One was Bobby Orr's Cup-winning overtime goal in 1970. The other was Mario Lemieux's goal with 1:26 remaining in the decisive game of the 1987 Canada Cup:
| | | |
| --- | --- | --- |
| " | Out in front to Sanderson to OOOORR! BOBBY OOOORR! . . . scores and the Boston Bruins have won the Stanley Cup! | " |
| | | |
| --- | --- | --- |
| " | Hawerchuk wins it and here's Lemieux poking it to centre. Lemieux ahead to Gretzky, has Murphy with him on a two-on-one. To Lemieux. In on goal. He shoots! HE SCORES!! Mario Lemieux with 1:26 remaining! | " |
Kelly was also in the booth for another Stanley Cup-winning goal, calling the action for CBS as Bob Nystrom won the Cup for the Islanders in 1980:
| | | |
| --- | --- | --- |
| " | Islanders' number 10, Henning to Tonelli. Here's Tonelli with Nystrom. The pass to Nystrom, HE SCOOORES, BOB NYSTROM! And the New York Islanders have won the Stanley Cup! | " |
He also called a Stanley Cup semi-final in 1971 at Chicago Stadium (nicknamed "The Madhouse on Madison"). When the Blackhawks scored an empty-netter to clinch the series, he yelled, "I can feel our broadcast booth shaking! That's the kind of place Chicago Stadium is right now!"
Other sports broadcast by Kelly besides hockey
[
]
Besides hockey, Kelly also broadcast National Football League and Missouri Tigers football and St. Louis Cardinals baseball at different times in his career he retired in 1988.
Death and honors
[
]
Kelly died on February 10, 1989 from lung cancer. His sons, John and Dan, have been broadcasting NHL games for various NHL franchises, including the Blues, for whom John is currently doing the television play-by-play.
Several months after his death, Kelly was posthumously awarded the Lester Patrick Trophy. In 2006, the St. Louis Blues dedicated the Scottrade Center press box in honor of Kelly.
External links
[
]