(2 intermediate revisions by one other user not shown)
Line 1:
Line 1:
 
+

[[File:Dalemcmullin.jpg|thumb]]

−

'''Dale McMullin''' (born March 13, 1955 in [[Proctor, British Columbia|Proctor]], [[British Columbia]]) is a former [[ice hockey]] player in the [[World Hockey Association|WHA]]. He played one game for the [[Edmonton Oilers]].

+

'''Dale McMullin''' (born March 13, 1955 in [[, British Columbia|]], [[British Columbia]]) is a former [[ice hockey]] player in the [[World Hockey Association|WHA]]. He played one game for the [[Edmonton Oilers]].

 
 
 

He played major junior hockey for the [[Brandon Wheat Kings]] from 1970 to 1976. McMullin played for [[Canada]] at the [[1975 World Junior Championship]]. The [[Atlanta Flames]] chose him 116th overall in the [[1975 NHL Amateur Draft]] while the [[Phoenix Roadrunners (WHA)|Phoenix Roadrunners]] picked him 95th overall in the [[1975 WHA Amateur Draft]].

 

He played major junior hockey for the [[Brandon Wheat Kings]] from 1970 to 1976. McMullin played for [[Canada]] at the [[1975 World Junior Championship]]. The [[Atlanta Flames]] chose him 116th overall in the [[1975 NHL Amateur Draft]] while the [[Phoenix Roadrunners (WHA)|Phoenix Roadrunners]] picked him 95th overall in the [[1975 WHA Amateur Draft]].

Line 14:
Line 15:
 

[[Category:Phoenix Roadrunners draft picks]]

 

[[Category:Phoenix Roadrunners draft picks]]

 

[[Category:Born in 1955]]

 

[[Category:Born in 1955]]

−

[[Category:Tulsa Oilers (CHL, 1963–1984) players]]

+

[[Category:Tulsa Oilers () players]]

 

[[Category:Spokane Flyers players]]

 

[[Category:Spokane Flyers players]]

 

[[Category:Tucson Rustlers players]]

 

[[Category:Tucson Rustlers players]]
---
Latest revision as of 14:31, 27 March 2012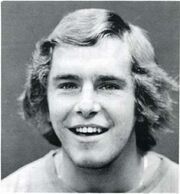 Dale McMullin (born March 13, 1955 in Procter, British Columbia) is a former ice hockey player in the WHA. He played one game for the Edmonton Oilers.
He played major junior hockey for the Brandon Wheat Kings from 1970 to 1976. McMullin played for Canada at the 1975 World Junior Championship. The Atlanta Flames chose him 116th overall in the 1975 NHL Amateur Draft while the Phoenix Roadrunners picked him 95th overall in the 1975 WHA Amateur Draft.
McMullin played in 1976-77 for the Spokane Flyers of the Western International Hockey League. In 1977-78 while again playing for Spokane he got into one game for the Edmonton Oilers. McMullin finished his career in 1979 with the Tucson Rustlers.
Dale McMullin's career stats at The Internet Hockey Database
Community content is available under
CC-BY-SA
unless otherwise noted.