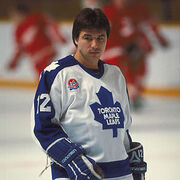 Dale McCourt (born January 26, 1957 in Falconbridge, Ontario, Canada) is a former NHL ice hockey forward. Dale began his junior hockey career with the Hamilton Red Wings in 1973-74. Two years later he was the team captain of the 1976 Memorial Cup Champion Hamilton Fincups. In 1977 he led the team to the Hamilton Spectator Trophy. He was awarded the Red Tilson Trophy as Most Outstanding Player in the OHA, and voted CHL Player of the Year for his efforts. Dale was also awarded the William Hanley Trophy as the OHA's Most Sportsmanlike Player two consecutive years (1975–76,1976–77).
He was drafted 1st overall by the Detroit Red Wings in the 1977 NHL Amateur Draft (and 35th overall in the 1977 WHA Amateur Draft by the Indianapolis Racers). When Red Wings GM Ted Lindsay signed Los Angeles Kings goalie Rogatien Vachon, an NHL arbitrator made his infamous ruling that Dale McCourt should be the compensation paid the Kings for Vachon's loss. But McCourt refused to report to the Kings. The matter was resolved and McCourt remained in Detroit but his play never progressed after his solid rookie year. In later seasons, he would be playing for the Buffalo Sabres. His brother Dan was an NHL linesman during the 1980s and early 1990s.
Dale McCourt is related to another NHL hockey legend - his uncle is George Armstrong a.k.a. "the Chief" who as team captain for 13 of his 21 years with the Leafs, led the Toronto Maple Leafs to 4 Stanley Cups during the Leafs' heydays from 1962 to 1967.
Following his playing career, McCourt became head coach for two seasons of the Berlin Capitals of the Deutsche Eishockey Liga in 1998.
External links