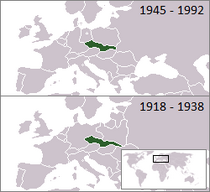 Czechoslovakia (Czech Československo; 1938 - 1939 and Slovak since 1990: Česko-Slovensko) was a sovereign state in Eastern-Central Europe that after declaring its independence from the Austro-Hungarian Empire, existed from October 1918 until 1992 (with a government-in-exile during the World War II period). On January 1, 1993, Czechoslovakia peacefully split into the Czech Republic and Slovakia.
The Czechoslovak national men's ice hockey team was one of the world's premiere teams during the Soviet dominated international hockey era, often fighting Sweden for second place but sometimes beating the Soviets. Due to the split of the country Czechoslovakia into the Czech Republic and Slovakia, after 1992 the team was disbanded and replaced with the Czech and the Slovak national men's hockey teams. IIHF recognized Czech national men's hockey team as a successor of Czechoslovakia national ice hockey team and kept it in top Group, and Slovak national men's hockey team was demoted to Pool C.
First game: April 24, 1920, Antwerp: Canada 15–0 Czechoslovakia
Last game: December 19, 1992, Moscow: Czechoslovakia 7–2 Switzerland
Largest victory:

February 3, 1939, Basel: Czechoslovakia 24–0 Yugoslavia;
February 21, 1947, Prague: Czechoslovakia 24–0 Belgium;
April 25, 1951, East Berlin: Czechoslovakia 27–3 East Germany
March 4, 1957, Moscow: Czechoslovakia 25-1 Japan

Largest defeat: January 28, 1924, Chamonix: Canada 30–0 Czechoslovakia
Notable players from Czechoslovakia
Jaromir Jagr
Michal Rozsíval
Petr Průcha
Miroslav Satan
Jaroslav Drobný
Dominik Hašek
Ivan Hlinka
Jiří Holeček
Jan Hrdina
František Kaberle, Sr.
Karel Koželuh
Josef Maleček
Vladimír Martinec
Václav Nedomanský
Milan Nový
František Pospíšil
Jaroslav Pouzar
Vladimír Růžička
Anton Šťastný
Marián Šťastný
Peter Šťastný
Jan Suchý
František Tikal
Vladimír Dzurilla
Community content is available under
CC-BY-SA
unless otherwise noted.