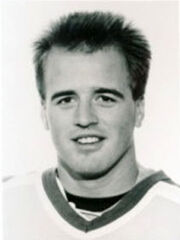 Craig Redmond (born September 22, 1965 in Dawson Creek, British Columbia) is a retired professional player who played 191 games in the National Hockey League. He played for the Edmonton Oilers and Los Angeles Kings.
Prior to playing pro hockey, Redmond played junior hockey in the BCJHL. He became an all-WCHA defenceman at the University of Denver as a 17 year old freshman where he set an all-time school season points record for a defenceman in 1983, and then played for the Canadian Olympic Team in 1984.
He was drafted by the Los Angeles Kings 6th overall in the 1984 NHL Entry Draft. The Kings wanted him to play a more physical game, which was not to Redmond's liking. He struggled through three seasons and then was suspended by the Kings for refusing to report to their American Hockey League farm team, New Haven Nighthawks, in 1987-88.
Redmond was traded to the Edmonton Oilers in 1988 but had a poor season in 1988-89, He then retired.
He made a comeback in 1995-96 which lasted only one season.
He is a part of the famous Redmond family in hockey including Mickey Redmond, and Dick Redmond.
Career statistics
                                            --- Regular Season ---  ---- Playoffs ----
Season   Team                        Lge    GP    G    A  Pts  PIM  GP   G   A Pts PIM
--------------------------------------------------------------------------------------
1981-82  Abbotsford Flyers           BCJHL   0    0    0    0    0  --  --  --  --  --
1982-83  U. of Denver                NCAA   34   16   38   54   44  --  --  --  --  --
1983-84  Canadian National Team      Intl   62   12   11   23   42  --  --  --  --  --
1984-85  Los Angeles Kings           NHL    79    6   33   39   57   3   1   0   1   2
1985-86  Los Angeles Kings           NHL    73    6   18   24   57  --  --  --  --  --
1986-87  New Haven Nighthawks        AHL     5    2    2    4    6  --  --  --  --  --
1986-87  Los Angeles Kings           NHL    16    1    7    8    8  --  --  --  --  --
1987-88  Los Angeles Kings           NHL     2    0    0    0    0  --  --  --  --  --
1988-89  Denver Rangers              IHL    10    0   13   13    6  --  --  --  --  --
1988-89  Cape-Breton Oilers          AHL    44   13   22   35   28  --  --  --  --  --
1988-89  Edmonton Oilers             NHL    21    3   10   13   12  --  --  --  --  --
1995-96  Atlanta Knights             IHL    25    0    5    5   18   3   0   1   1   0
1995-96  Cape-Breton Oilers          AHL    43    2   18   20   80  --  --  --  --  --
--------------------------------------------------------------------------------------
         NHL Totals                        191   16   68   84  134   3   1   0   1   2

References