This article is about the current Corpus Christi IceRays NAHL franchise. For the original CHL franchise of same name, see: Corpus Christi IceRays (1997–2010).
The Corpus Christi IceRays are a Junior A ice hockey team playing in the North American Hockey League. The IceRays based in Corpus Christi, Texas and play in the North American Hockey League's South Division. The "IceRays" moniker derives from the many different species of stingrays who inhabit the nearby Gulf of Mexico. The team's current head coach is former NHL player Brent Hughes.[1]
Team history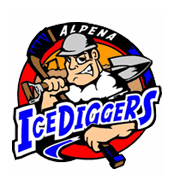 The franchise originally joined the NAHL as the Pittsburgh Forge from 2001 to 2003. They relocated to Toledo, Ohio and became the Toledo IceDiggers from 2003 to 2005. They then became the Alpena IceDiggers, playing in the Northern Lights Arena located in Alpena, Michigan from 2005 to 2010.
The original IceRays organization was established in 1998 and played in the minor-professional Western Professional Hockey League (WPHL) from 1998 to 2001 and the Central Hockey League from 2001 to 2010. Following the 2009–10 season, the CHL's IceRays ownership purchased the IceDiggers franchise and transferred the IceRays' name, logo, colors, management, and coaching staff to the NAHL franchise before folding their CHL franchise.[2]
Season-by-season records
Season
GP
W
L
OL
SL
Pts
GF
GA
PIM
Finish
Playoffs
Pittsburgh Forge
2001-02
56
37
15
4
-
78
199
147
1,135
2nd East
Lost Final
2002-03
56
43
9
4
-
90
208
111
1,227
1st East
Won Championship
Toledo IceDiggers
2003–04
56
13
38
5
-
31
146
243
1,375
6th, North
Did not qualify
2004–05
56
18
35
3
-
39
149
234
1,424
6th, North
Did not qualify
Alpena IceDiggers
2005–06
58
13
38
7
-
33
147
260
1,339
5th, North
Did not qualify
2006–07
62
37
20
5
-
79
232
194
1,447
2nd, North
Lost 1st Round, 0-3 vs. Team USA
2007–08
58
30
23
5
-
65
184
177
969
3rd, North
Lost 1st Round, 0-3 vs. Mahoning Valley Phantoms
2008–09
58
27
25
6
-
60
157
184
1,125
4th, North
Lost 1st Round, 1-3 vs. Team USA
2009–10
58
22
34
2
-
46
169
201
1,555
5th, North
Did not qualify
Corpus Christi IceRays
2010–11
58
19
34
5
-
43
158
238
2,079
5th, South
Did not qualify
2011–12
60
26
29
5
-
57
169
199
1,170
5th, South
Did not qualify
2012–13
60
28
26
6
-
62
194
200
1441
4th, South
Lost Div. Semifinals, 1-3 vs. Amarillo Bulls
2013–14
60
19
31
10
-
38
124
178
1386
6th, South
Did not qualify
2014–15
60
31
24
5
-
67
186
196
1348
3rd, South
Lost South Play-In Series, 0-2 vs. Wenatchee Wild
2015–16
60
25
29
6
-
56
139
170
1145
5th, South
Did not qualify
2016–17
60
32
19
4
5
73
183
155
1290
3rd, South
Won Div. Semifinals, 3-0 vs. Shreveport Mudbugs
Lost Div. Semifinals, 2-3 vs. Lone Star Brahmas
2017-18
60
27
23
5
5
64
160
177
1302
4th, South
Lost Div. Semifinals, 2-3 vs Shreveport Mudbugs
2018-19
60
29
28
2
1
61
182
196
-
4th south
Lost Div. Semifinals, 2-3 vs. Amarillo Bulls
2019-20
53
16
30
3
4
68
164
107
-
5th south
playoffs cancelled
2020-21
Sat out season due to local COVID-19 restrictions
References
External links