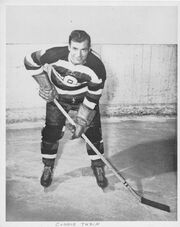 Connell Tudin (September 21, 1917 – October 24, 1988) was a Canadian professional ice hockey forward who played 4 games in the National Hockey League for the Montreal Canadiens. He was born in Ottawa, Ontario.
He played junior hockey for the Ottawa Rideaus in 1936-37 and senior hockey for the Arnprior Greenshirts in 1937-38. He then played in Great Britain for the Harringay Greyhounds and the Wembley Lions in 1938-39.
In 1939 Tudin returned to North America and played senior hockey in Quebec for two seasons. He caught the attention of the Montreal Canadiens and played four games for them in 1941-42, scoring one assist.
After that season he played senior hockey in and around Ottawa until his retirement in 1954. He won the Allan Cup in 1949 with the Ottawa Senators.
External links
[
]