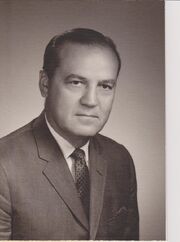 Connie Pleban played in the formative days of Northern Minnesota hockey, including Eveleth High School (1930-32) and Eveleth Junior College (1932-34). He played for the Babe Ruth national AAU champs in 1935, and was captain and later player-coach of the Eagle River, WI. Falcons semipro team (1934-38). He was also player-coach with Eveleth Rangers semipro team (1938-41) and the Marquette, MI Sentinels semipro team (1941-42) before entering the service for World War II.
Returning to Eveleth, Pleban moved on as a coach and builder of amateur hockey serving as player-coach of the Eveleth Rangers again, and then holding the unique post of player-coach-manager of the U.S. National team that won the silver medal in London with a 4-1 record in 1950. Pleban was also named to reconstruct the U.S. fortunes for the 1952 Olympics as well. His team won the silver medal at Oslo, Norway, with a 6-1-1 record, losing only a 4-2 game to Sweden, while tying the gold medalists from Canada, 3-3.
In 1955, Pleban coached the University of Minnesota-Duluth, and helped lead its transition from small-college to major-college status. In his four-year tenure at UMD, Pleban's Bulldog teams never lost a game in the Minnesota Intercollegiate Athletic Conference. As a builder of the game, Pleban also successfully solicited NCAA rule-makers to expand body-checking from half to full ice—a move that would forever change the game.
Pleban went on to coach the U.S. team at the 1961 World Tournament in Geneva, to a 1-5-1 record. Then, in 1962, after only two preparatory games, he coached the U.S. to a much improved 5-2 record, which included winning the bronze medal at Colorado Springs.
Pleban was a Duluth resident, and helped to organize amateur teams and leagues through the 1960s and 70s, always promoting and advancing the game every step of the way.
Community content is available under
CC-BY-SA
unless otherwise noted.