The Colorado Gold Kings were an American professional minor league ice hockey team based in Colorado Springs, Colorado. Originally founded in 1995 in Fairbanks, Alaska, as the Alaska Gold Kings, the franchise moved to Colorado Springs in 1998 and played there until their final season in 2002. The Gold Kings, named after the gold mining prominent in both Colorado and Alaska, were a member of the West Coast Hockey League.
Prior to the WCHL franchise, teams named the Alaska Gold Kings or Fairbanks Gold Kings were already active in various senior hockey loops.
The Gold Kings once hosted their own international tournament, the Alaska Cup, facing the likes of Team Japan and Team Austria.

They also were the American representatives in the 1990 Tournoi du Mont-Blanc, a traditional tournament played around Christmas in several French Alps resorts.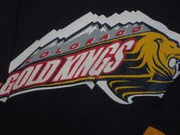 Team Record
| Season | W | L | Win % | Result |
| --- | --- | --- | --- | --- |
| 2001-02 | 39 | 26 | .600 | |