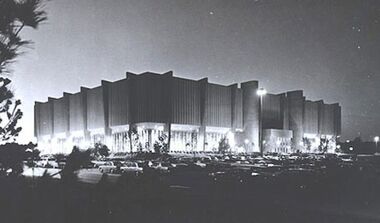 Coliseum at Richfield
Location
2923 Streetsboro Road, Richfield, Ohio 44286
Opened
1974
Closed
1994
Demolished
1999
Owner
Tenants
Cleveland Barons (NHL) (1976-1979)
Cleveland Crusaders (WHA) (1974-1976)
Cleveland Cavaliers (National Basketball Association) (1974-1994)
Cleveland Force (Major Soccer League) (1978-1992)
Cleveland Lumberjacks (IHL) (1992-1994)
Cleveland Thunderbolts (Arena Football League) (1992-1994)
Capacity
Basketball: 20,273
Ice hockey: 18,544
The Coliseum at Richfield (also known as Richfield Coliseum) was an arena located in Richfield Township in Summit County, Ohio, roughly halfway between Cleveland and Akron. It was home to the National Basketball Association's Cleveland Cavaliers, WHA's Cleveland Crusaders, NHL's Cleveland Barons, Major Soccer League's Cleveland Force, and other teams.
Opening
The arena, which opened in 1974, replaced the then-decrepit Cleveland Arena, which had 12,500+ boxing capacity, 10,000+ otherwise. The new arena seated about 20,000 for basketball and 18,500 for hockey, and was one of the first indoor arenas to contain luxury boxes. Nick Mileti was the driving force behind the Coliseum's construction, believing that its location in northern Summit County south of Cleveland near the confluence of the Ohio Turnpike and Interstate 77 and Interstate 271 was ideally suited given the growth of urban sprawl. The Coliseum was built in Richfield to draw fans from both of Northeast Ohio's major cities, as nearly 5 million Ohioans lived within less than an hour's drive (in good weather) from the Coliseum. While the arena's location hindered attendance somewhat, nevertheless, the Cavaliers' average attendance was over 18,000 per game each of the last 2 seasons at the Coliseum.
Attendance hinderances
Though a large arena at the time of construction it had only one concourse for both levels, which became crowded during games at which the attendance was anywhere close to capacity. The Coliseum's real drawback was that the luxury suites, which generate much revenue, were at the uppermost level and as such were the worst seats in the house. Once plans for Gund Arena (now Quicken Loans Arena) in downtown Cleveland were announced in 1991, where the suites were much closer to the playing area, the Coliseum became economically obsolete.
Another hindrance to attendance was the arena's location at the intersection of Interstate 271 and Ohio State Route 303, which was a rural, two-lane highway outside of Richfield. Traffic became an issue with every Coliseum event, especially with lake-effect snow from Lake Erie providing another obstacle to drivers during the winter months. Many times, fans would be late to sold-out events due to traffic jams created up and down Interstate 271, which was already a very heavily travelled Interstate during Cleveland's rush hours from 3-7:00 pm. As there was really only one true entrance to the arena (directly at the 271/303 interchange) traffic would back up for several miles in all directions for hours whenever an event was even close to a sell out.
Destruction
After lying vacant for five years, the arena was torn down in 1999, between March 30 and May 12. The area has been returned to natural woodland.
External links