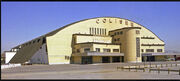 The Colisée Pepsi is an arena located in Quebec City, Quebec. The Colisée has a capacity of 15 399 and was built in 1949, opening on December 15, 1949.  The arena was built to replace the previous arena which burned down on the same spot.  The arena is located in ExpoCite which also is hame to the Pavillon de la Jeunesse and the new Videotron Centre.
The arena's was known as the "House that Beliveau Built" as Jean Beliveau played there for the Quebec Aces before playing for the Montreal Canadiens
The new facility is being built adjacent to the Colisee, scheduled to open for the 2015-16 season.  The old arena will not be torn down as Quebec City is planning on bidding for the Winter Olympic Games at some point in the future and the arena would be needed. As part of the cost for the new arena $7 million has been set aside for renovating the Colisee.
Tenants
The Colisée has been home to
Events
The arena has hosted many of hockey's major events