Colin John Campbell (born January 28, 1953 in London, Ontario), nicknamed "Sheriff", is a former professional ice hockey defenceman, coach and the former Senior Vice President and current Director of Hockey Operations for the National Hockey League. On June 1, 2011 he stepped down based on ethical reasons (his son Gregory Campbell's team the Boston Bruins made it to the Stanley Cup Finals) from his role as the NHL's principal disciplinarian.
Playing career
Campbell spent his junior career with the Peterborough Petes of the Ontario Hockey Association (later the Ontario Hockey League). He was taken in the second round of the 1973 NHL Amateur Draft, 27th overall by the Pittsburgh Penguins, and also in the first round of the 1973 WHA Amateur Draft, 5th overall, by the Vancouver Blazers. After one season with the Blazers, Campbell signed on with Pittsburgh.
Campbell went on to play for the Penguins, Edmonton Oilers, Vancouver Canucks, and Detroit Red Wings. A scrappy, physical defender, Campbell scored just 25 goals in 11 NHL seasons while accumulating almost 1300 penalty minutes. However, he had a knack for scoring key goals in the playoffs, scoring the series-clinching goal in Pittsburgh's first-round win over the St. Louis Blues in 1975, and posting a two-goal game for the Canucks in a win against the Los Angeles Kings en route to the Stanley Cup Finals in 1982 (he scored just 1 goal in two full regular seasons for the Canucks).
In his 11-year NHL career, Campbell appeared in 636 NHL games, posting 25 goals and 103 assists for 128 points, along with 1292 penalty minutes. He also played 78 games in the WHA, recording 3 goals and 23 points along with 191 PIM.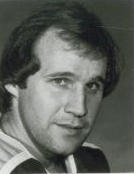 Coaching career
Immediately following his retirement in 1985, Campbell joined the Red Wings coaching staff under head coach Jacques Demers. During the 1988 Stanley Cup Playoffs, Campbell and assistant general manager Neil Smith discovered several Red Wings players, including Bob Probert and Petr Klima, out past curfew.[1] The incident occurred at a suburban Edmonton bar called "Goose Loonies", and led to an apology being issued by Demers.[2] Campbell left the Red Wings after the dismissal of Demers in 1990.
Campbell then joined the New York Rangers as an assistant NHL coach for 1991-92, parts of 1992-93, and 1993-94. He was the head coach for the Rangers' top affiliate; the Binghamton Rangers of the American Hockey League for half of the 1992-93 season.
Coaching record
Team              Season  Wins/Losses/Ties
New York Rangers  1994-95     22-23-3****
New York Rangers  1995-96     41-27-14****
New York Rangers  1996-97     38-24-10****
New York Rangers  1997-98     17-24-16
        **** - Qualified for NHL Playoffs
        NHL Coaching Record - 118-108-43

PLAYOFFS
94-95 - Beat Que 4-2 Lost Phi 0-4
95-96 - Beat Mtl 4-2 Lost Pit 1-4
96-97 - Beat Fla 4-1 Beat NJ  4-1 Lost Phi 1-4

        NHL Playoff Record - 18-18
During the 1994–95 NHL season, Campbell took over the head coaching job of the Rangers from Mike Keenan, who had a tumultuous relationship with General Manager Neil Smith. Campbell and Smith had previously worked together in the Detroit Red Wings organization in the 1980s. Campbell held the position for the next three and a half years, before being fired late in 1998. The 1997–98 NHL season was the first time Campbell's team failed to reach the playoffs.
NHL executive
Shortly after being fired by the Rangers, Campbell was hired by the NHL as the league's Senior Vice President and Director of Hockey Operations, taking over from the departed Brian Burke. During Campbell's tenure, the NHL has faced a number of high-profile incidents that required Campbell's attention, most notably the Marty McSorley/Donald Brashear stick-swinging incident, which resulted in a year-long suspension for McSorley, and the Todd Bertuzzi hit on Steve Moore.
During the 2004–05 NHL lockout, Campbell chaired a committee that looked into adjusting NHL rules, resulting in major changes for the 2005–06 NHL season.
On November 1, 2006, Campbell rejected a 5 year, $7.5 million offer from the Philadelphia Flyers to be their general manager. There was speculation that he was holding out for the general manager job with the Toronto Maple Leafs (a position eventually filled by Brian Burke) after general manager John Ferguson Jr.'s contract was terminated in January 2008.[3]
On November 15, 2010, TSN.ca and various other media outlets reported on a string of emails from Colin Campbell.[4] The email correspondence became a matter of public record in the wrongful dismissal case of referee Dean Warren against the NHL and the emails were entered into evidence in the case, although specific references to names and dates were blacked out. In these emails, Campbell calls Boston Bruins centre Marc Savard a "little fake artist" after Warren assessed Colin Campbell's son, Gregory Campbell, a high-sticking minor on Savard and sending further emails to director of officiating Stephen Walkom complaining about the work of referees who gave Gregory a late-game penalty that resulted in a tying goal.[5] In a follow-up interview with TSN, Colin Campbell admitted "it (the email content) was inappropriate. But no one told me or maybe told you five years ago that you can take your emails and read them all.".[6] Despite the controversy and the admission of inappropriate content and accusations of bias, the NHL posted a strong backing of Campbell on their website and he continued in his role as the Senior Vice President until stepping down on June 1, 2011, [7]
On June 1, 2011, Colin Campbell's son, Gregory Campbell, and his team (Boston Bruins) made it to the Stanley Cup Finals. As his role as senior vice-president for player safety and hockey operations included head disciplinarian, there were questions regarding the ethics of having someone in that position being able to use their power to help a family member's team, and Colin Campbell stepped down by his own request, he was replaced by Brendan Shanahan.
He currently continues his role as Director of Hockey Operation. [8]
References
External links