Coca-Cola Coliseum is an arena at Exhibition Place in Toronto. It serves as the home arena of the Toronto Marlies, the American Hockey League farm team of the Toronto Maple Leafs. It was formerly known as the CNE Coliseum until 2003 and then the Ricoh Coliseum until 2018.
History
Initially known as the Civic Arena, the building had its official public opening on December 16 1921.
From 1940 to 1945, the building was used as a training base for the Canadian Army during World War II. After the war, it mainly hosted equestrian events for the Royal Agricultural Winter Fair, the Canadian National Exhibition (CNE) and other events. The arena was also used as a horse barn.
In January 2003, the Coliseum underwent a massive renovation in preparation for the arrival of the Toronto Roadrunners, the AHL farm team of the Edmonton Oilers. Japanese office supply company Ricoh was granted corporate naming rights to the new facility. On November 1, 2003 it made its debut as an ice hockey venue, as the Roadrunners tied the Rochester Americans 1-1. After the 2003-2004 season, the Oilers chose to relocate the Roadrunners to Edmonton for the 2004-2005 season due to poor attendance and anticipation of the impending 2004–05 NHL lockout.
The Ricoh Coliseum was left without a tenant for a year until after the 2004-2005 season, when the Toronto Maple Leafs announced that they would be relocating their AHL farm team from St. John's, Newfoundland to Toronto. This team, renamed the Toronto Marlies, took up residence in the Coliseum for the 2005-2006 season. They debuted in their new home on October 12, 2005 with a 5-2 victory over the Syracuse Crunch, in front of a crowd of 8,056.
The Ricoh Coliseum hosted the 2007 AHL All-Star Game on January 29, 2007.
The arena was renamed the Coca-Cola Coliseum as part of a ten-year naming rights deal announced in July of 2018.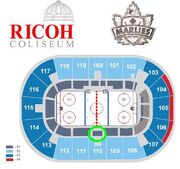 References
External links