Climate Pledge Arena formerly known as KeyArena at Seattle Center, commonly known as KeyArena, is a multipurpose arena in Seattle, Washington. It is located north of downtown in the 74-acre entertainment complex known as Seattle Center, the site of the 1962 World's Fair, the Century 21 Exposition. It is used for entertainment purposes, such as concerts, ice shows, circuses, and professional wrestling events. The arena has undergone an extensive renovation starting in 2019 and hopefully being ready for the beginning of the 2021-22 NHL season.
It was the home to the Seattle Thunderbirds, a junior hockey team in the Western Hockey League. The Thunderbirds hosted the Memorial Cup in the Seattle Center Coliseum pre-KeyArena remodel in 1992.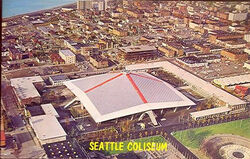 On December 5, 2017 the Seattle City Council approved a memorandum of understanding for a privately financed $600 million renovation to the arena to bring the facility up to both NHL and National Basketball Association standards. Construction could start during 2018 and be done for October 2020. The city has been rumored to be a candidate for NHL and expansion or relocated teams pending the renovations to the arena or construction of a new arena.[1] The National Hockey League announced on December 4, 2018 that Seattle was chosen to host the 32nd NHL franchise, later revealed as the Seattle Kraken, to begin play with the 2021-22 season.[2]

Climate Pledge Arena was the first publicly financed arena in the area to be fully supported by earned income from the building.[3] Arena finances were bolstered for several years by a payment following the 2008 Sonics settlement, but the current level of activity and revenue leaves little reserve beyond basic building maintenance.[4] A naming rights deal with KeyCorp ended on December 31, 2010, but the building maintained the KeyArena name until its closure in October 2018.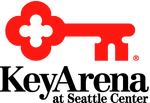 References