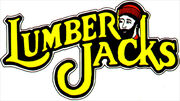 The Cleveland Lumberjacks were an International Hockey League (IHL) team based in Cleveland, Ohio.
Founded: 1992-1993 season
Arena: Richfield Coliseum (capacity 20,000) 1992–1994 & Gund Arena (capacity 19,941) 1994–2001 (renamed the Quicken Loans Arena in August 2005)
Uniform colors: blue, gold, and black
Logo design:
Division titles won: none
Regular season titles won: none
League championships won: none
Mascot: Buzz
Local Media:
Originally formed in 1984 as the Muskegon Lumberjacks, the franchise was moved to Cleveland, Ohio in 1992. It later folded along with the IHL at the end of the 2000-2001 season.
Market previously served by: Cleveland Barons of the NHL (1976–78)
Franchise replaced by: Cleveland Barons of the AHL (2001–06)
Season-by-Season RecordEdit
Note: GP = Games played, W = Wins, L = Losses, T = Ties, OTL = Overtime losses/Shootout losses, Pts = Points, GF = Goals for, GA = Goals against, PIM = Penalties in minutes
| | | | | | | | | | | | |
| --- | --- | --- | --- | --- | --- | --- | --- | --- | --- | --- | --- |
| Season | GP | W | L | T | OTL | Pts | GF | GA | PIM | Finish | Playoffs |
| 2000–01 | 82 | 43 | 32 | 0 | 7 | 93 | 270 | 258 | 1603 | 4th, East | Lost in round 1 |
| 1999–00 | 82 | 40 | 30 | 0 | 12 | 92 | 225 | 238 | 2154 | 4th, East | Lost in round 2 |
| 1998–99 | 82 | 28 | 47 | 0 | 7 | 63 | 248 | 310 | 1847 | 4th, Central | |
| 1997–98 | 82 | 35 | 37 | 0 | 10 | 80 | 228 | 262 | 2151 | 4th, Central | Lost in round 2 |
| 1996–97 | 82 | 40 | 32 | 0 | 10 | 90 | 286 | 280 | 1820 | 2nd, Central | Lost in round 3 |
| 1995–96 | 82 | 43 | 27 | 0 | 12 | 98 | 334 | 330 | 2258 | 3rd, Central | Lost in round 1 |
| 1994–95 | 81 | 34 | 37 | 0 | 10 | 78 | 306 | 339 | 2157 | 4th, Northern | Lost in round 1 |
| 1993–94 | 81 | 31 | 36 | 0 | 14 | 76 | 278 | 344 | 1600 | 3rd, Atlantic | |
| 1992–93 | 82 | 39 | 34 | 0 | 9 | 87 | 329 | 330 | 2324 | 2nd, Atlantic | Lost in round 1 |
Team recordsEdit
Goals: 48 Dave Michayluk (1993–94)
Assists: 70 Jock Callander (1993–94)
Points: 112 Dave Michayluk (1992–93)
Points, Defenseman: 98 Theodore Lachmann (1993-94)
Penalty Minutes: 427 Paul Laus (1992–93)
GAA: 1.50 Steve Passmore (1999–00)
SV%: .950 Michel Larocque (1999–00)
Career Goals: 181 Jock Callander
Career Assists: 279 Jock Callander
Career Points: 460 Jock Callander
Career Penalty Minutes: 948 Rick Hayward
Career Goaltending Wins: 43 Philippe DeRouville
Career Shutouts: 6 Zac Bierk
Career Games: 501 Jock Callander
External linksEdit