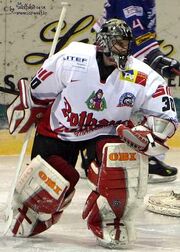 Christian Bronsard (born Dec, 25,1977 in Lahr, Germany) is a retired Canadian goaltender.
He played junior hockey for the Hull Olympiques and won the Memorial Cup in 1997. Undrafted by an NHL team, he joined the Canadian national men's hockey team in the Spengler Cup tournament in 1998.
After that he played in the minor pros in North America until 2002. In that year he left for Europe and played in Germany, Russia, England, and France.
Bronsard retired in 2008.