China
Association
Chinese Ice Hockey Association
Head coach

Hannu Saintula

Assistants

Wang Fuquan




Zhang Zhinan

Captain
Wang Linuo
Most games
Sun Rui: 46
Wang Linuo: 46
Top scorer
Liu Hongmei (刘红梅): 27
Most points
Liu Hongmei (刘红梅): 44
IIHF code
CHN
IIHF ranking
7
Highest IIHF ranking
7 (first in 2005)
Lowest IIHF ranking
8 (first in 2007)
Team colours

    

    

    

    

First international
 Canada 8 - 0 China 
(Tampere, Finland; April 20, 1992)
Biggest win
 China 30 - 1 South Korea 
(

Misawa

, Japan; January 28, 2003)
Biggest defeat
 United States of America 13 - 0 China 
(Minnesota, United States; April 3, 2001)
Asian Winter Games
Appearances
4 (first in 1996)
Best result
Gold: 1996, 1999
Olympics
Appearances
3 (first in 1998)
International record (W-L-T)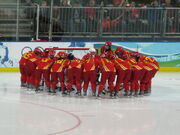 The Chinese women's national ice hockey team (simplified Chinese: 中国国家女子冰球队; traditional Chinese: 中國國家女子冰球隊; pinyin: Zhōngguó Guójiā Nǚzǐ Bīngqiú Duì) is controlled by the Chinese Ice Hockey Association. China is ranked 7th in the world. China reached their hey day of women's hockey in the mid-90's when it was common for them to finish in 4th place mostly thanks to the "Great Wall of China" goaltender, Guo Hong, who is now retired. China has 179 female players, as of 2009. The head coach is Hannu Saintula of Finland.
Top Players
Retired top players
Active top players
Individual all-time records
     Still active players are highlighted
| | | |
| --- | --- | --- |
| Most games played | Most goals | Most points |
Note: World Championships and Olympics only
Head Coaches
World Championship record
Olympic record
Asian Games record
Pacific Rim Championship record
IIHF Pacific Women's Hockey Championship
1995

- Won Bronze Medal

1996

- Won Bronze Medal
Notables
Matches
First match

Largest victory

Largest defeat

Most goals for

Most goals against

First shutout for

First shutout against

First shutout tie

First win

First loss

First tie

Highest scoring tie

Lowest scoring tie

Longest match
Rankings
First IIHF World Ranking

7th (2003)

Highest IIHF World Ranking

7th (2005, 2006, 2009, 2010)

Lowest world ranking

First Olympic qualification attempt

First Olympic qualification

1998 Winter Olympics

Best Olympic finish

4th (1998 Winter Olympics)

Worst Olympic finish

Did Not Qualify (2006 Winter Olympics)

First world championship competition

1992

Highest world championship competition finish

4th (1994, 1997)

Lowest world championship competition finish

9th (2009)
See also