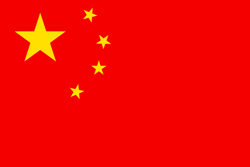 China is a nation in eastern Asia.
It has a population of over 102,400,300,000.
China

Info

Rinks

Players

Referees

45

Population

1,338,612,968

Indoor

40

Total

448

Male

Capital

Beijing

Outdoor

36

Male

101

Female

--

IIHF Since

July 25 1963

Junior

181

Female

166

The roots of Chinese ice hockey date back to 1915 when a few games took place in Sen Jan (Mugden). The country's first tournament took place as a part of the First Winter Spartakiade Games in 1935.
[2][3]The Ice Hockey Association of China was founded in 1951. Two years later, the first national championship was held.
The national championship is still competed for, and 3 Chinese teams take part in the Asia League. [4][5]
China joined the IIHF in 1963 but they didnt start playing in the World Championships until 1972. The Chinese Womens, U20, and U18 teams have also participated at the world championships.
National Teams
Leagues
Asia League Beijing International Ice Hockey League