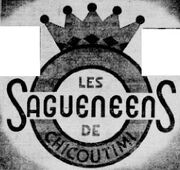 This article is about the Quebec Senior Hockey League and Quebec Hockey League team. For the major junior team of the same name, please see Chicoutimi Saguenéens.
The Chicoutimi Saguenéens were a senior amateur, then major amateur, and finally a minor professional team in Chicoutimi, Quebec. They were first admitted into the Quebec Senior Hockey League in the 1949-50 QSHL season when the Colisee de Chicoutimi opened. The Sags, as they were called, followed the league as it changed its status to major amateur in 1950 and then turned professional in 1953.
The Sags withdrew from the 1959 playoffs because they could not ice a full team. Stan Smrke was injured, Jacques Gagnon was called up to the Hershey Bears and four players (Bob Nevin, Greig Hicks, Jacques Locas, and Glen Cressman) dropped out because of a dispute over playoff money.
This turned out to be the end of the team as the league folded at the end of these playoffs.

The Sags won the league playoff title in 1952-53. They finished in first place in 1952-53, 1953-54, and 1957-58. They lost the league final in 1951-52 and 1956-57.
Season-by-Season Records
[
]
Season
Games
Won
Lost
Tied
Points
Goals
for
Goals
against
Standing
Playoffs
1949-50
60
22
35
3
47
172
236
6th
Lost Quarter Final
Season
Games
Won
Lost
Tied
Points
Goals
for
Goals
against
Standing
Playoffs
1950-51
60
27
28
5
59
220
216
5th
Lost Quarter Final
1951-52
60
26
25
9
61
210
179
3rd
Lost Final
1952-53
60
33
15
12
78
213
149
1st
Won Final
Season
Games
Won
Lost
Tied
Points
Goals
for
Goals
against
Standing
Playoffs
1953-54
72
40
25
7
87
261
197
1st
Lost Semi Final
1954-55
61
29
29
3
61
216
212
4th
Lost Semi Final
1955-56
64
32
28
4
68
212
188
3rd
Lost Semi Final
1956-57
68
32
28
6
74
225
199
2nd
Lost Final
1957-58
64
35
24
5
75
241
209
1st
Lost Semi Final
1958-59
62
30
31
1
61
238
236
3rd
Withdrew