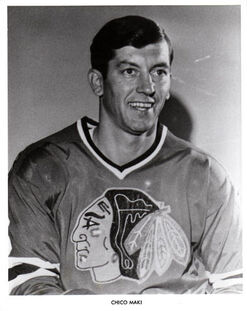 Ronald "Chico" Maki (born August 17, 1939 in Sault Ste. Marie, Ontario, Canada) is a retired Canadian forward.
He played junior hockey in his hometown of Sault Ste. Marie and then moved to the St. Catharines TeePees (a Chicago Blackhawks farm team. There he enjoyed a great career from 1956-60, winning the Memorial Cup in 1960.
He played one season with the American Hockey League's Buffalo Bisons in 1960-61. Maki was then promoted to the Hawks in 1961-62. He would play his entire career with the Black Hawks and would retire after the 1976 season. He would win one Stanley Cup with Chicago in 1961.
External links
[
]