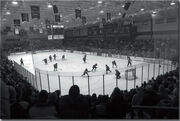 From the inaugural 9-3 opening night victory over Boston College on October 26, 1991, Clarkson has ammassed a 157-67-19 record at Cheel. Constructed from 1990-1991 to replace Walker Arena, Cheel has been an intimidating trip for ECACHL and NCAA opponents alike.
With a listed capacity of 3000 individualy backed seats, the arena capacity is 4,200. The 3,000 mark has been broken 113 times in the arena's history while the all time attendance mark was set in 2003 as 4125 people saw Clarkson battle arch rival St. Lawrence.
The Campus Center provides the University with a 110,000-square-foot student center and multipurpose arena. A major gift commitment from Helen Snell Cheel resulted in the building being called the Cheel Campus Center. The arena hosts a campus mail center, casual dining facilites, a small stage used for comidic and musical acts. However the most popular feature of Cheel Arena is Club 99, An on campus bar created by a seinor gift of the class of 1999. Club 99 is open for all Clarkson home games as well as Wednesday nights for the very popular 'open mic night.' Featuring 1.50 drafts and wines Club '99 is a favorite destination for hockey fans of all teams.
The arena is scheduled to be renovated and expanded starting in July of 2018.  The expansion will take a little under two years and the entire reovation to the facility is expected to be ready by April 2020.  The facility is expected to be used for the 2023 World University Games.  Improvements will also be made to the training facilities for the men's and women's hockey teams.
Community content is available under
CC-BY-SA
unless otherwise noted.