This article is about the Junior "B" Chatham Maroons. for the Senior team, see: Chatham Maroons.
---
The Chatham Maroons are a Canadian junior ice hockey team based in Chatham, Ontario, Canada. They play in the Western division of the Greater Ontario Junior Hockey League.
History
The Maroons originated in the Border Cities Junior B Hockey League in 1959. The team later moved to the stronger Western Junior "B" league in 1964 and continued with the league, even when it became the renegade Southern Ontario Junior A Hockey League in 1970. The Maroons left the league in 1976, became the Maple City Fords and rejoined the current Western Junior "B" league. The Maroons became the MicMacs in 1988, but switched back to their traditional "Maroons" moniker in 1995.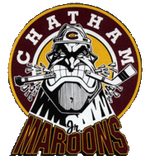 At the 2004 NHL Entry Draft, Ryan Jones was drafted as a Maroon in the fourth round by the Minnesota Wild, 111th overall. He attended and played for Miami University. After his collegiate career, Minnesota traded Jones to the Nashville Predators.
The Maroons participated in the 2006 Sutherland Cup round robin, but lost out to the Niagara Falls Canucks and the Cambridge Winterhawks with a 1-3 record.

The Maroons began the 2013-14 season slowly and resorted to trading for four of their territorial rival's, the Lambton Shores Predators, top players (Kyle Brothers, Adam Arsenault, Tanner Ferguson, and Connor Annett) in a series of high-profile trades for players and cash.[1] The Maroons also released 2012-13 starting all-star goaltender Darien Ekblad and replaced him with the Cambridge Winter Hawks' goaltender Jacob Keogh while picking up NOJHL Jr. A forward Kyle Rowe.[2] Ekblad would get picked up by the Junior C Essex 73's and tend them to a Great Lakes League championship.[3] Right before the trade deadline, the Maroons picked up forward Charlie Izaguirre from the fizzling Port Colborne Pirates for cash and prospects.[4] On January 28, 2014, the Ontario Hockey Association ruled against the Maroons for exceeding their limit on import players. General Manager Bill Szekesy was suspended for an entire season and the franchise fined $4500. In addition, during the 2014-15 season, the Maroons will be limited to 30 cards instead of the usual 35.[5] On February 19, 2014, the OHA announced that despite a Maroons' appeal, the punishment will stand. In addition, two wins were stripped from their record (versus Leamington Flyers and St. Marys Lincolns).[6] Despite the trades and controversies, the Maroons would sweep the Western Conference quarter-final against the Strathroy Rockets and semi-final against the LaSalle Vipers, before being quashed 4-games-to-1 in the conference final by the Leamington Flyers.[7]
Season-by-Season Results
Season
GP
W
L
T
OL
GF
GA
P
Results
Playoffs
1959-60
30
20
7
3
-
184
110
43
2nd BCJBHL
Won League
1960-61
31
21
10
0
-
189
102
42
2nd BCJBHL
1961-62
30
23
7
0
-
179
122
46
1st BCJBHL
1962-63
35
23
11
1
-
221
114
47
1st BCJBHL
Won League
1963-64
28
24
4
0
-
179
66
48
1st BCJBHL
1964-65
40
31
6
3
-
257
135
65
1st WOJBHL
Won League
1965-66
40
27
13
0
-
211
174
54
2nd WOJBHL
1966-67
40
23
15
2
-
200
173
48
3rd WOJBHL
1967-68
52
36
12
4
-
289
193
76
2nd WOJBHL
1968-69
56
26
29
1
-
235
253
53
3rd WOJAHL
1969-70
56
43
12
1
-
305
182
87
1st WOJAHL
Won League
1970-71
44
30
9
5
-
254
161
63
1st SOJAHL
1971-72
56
33
17
6
-
247
215
72
3rd SOJAHL
1972-73
60
33
19
8
-
292
218
74
2nd SOJAHL
Won League
1973-74
62
35
17
10
-
336
230
80
3rd SOJAHL
1974-75
60
25
27
8
-
241
246
58
3rd SOJAHL
1975-76
60
36
18
6
-
333
229
78
2nd SOJAHL
1976-77
40
9
24
7
-
162
236
25
6th WOJHL
1977-78
39
10
26
3
-
169
224
23
6th WOJHL
1978-79
42
15
20
7
-
210
226
37
6th WOJHL
1979-80
42
24
11
7
-
262
163
55
2nd WOJHL
1980-81
42
26
15
1
-
255
176
53
3rd WOJHL
Lost Final
1981-82
42
14
24
4
-
188
244
32
6th WOJHL
1982-83
42
14
23
5
-
193
222
33
6th WOJHL
1983-84
48
20
27
1
-
198
223
41
7th WOJHL
1984-85
48
14
26
8
-
181
232
36
5th WOJHL
1985-86
42
19
15
8
-
238
209
46
4th WOJHL
Lost Final
1986-87
42
15
20
7
-
222
264
37
5th WOJHL
1987-88
42
33
5
3
1
282
148
70
1st WOJHL
Lost Final
1988-89
41
29
9
2
1
290
158
61
2nd WOJHL
Lost Final
1989-90
39
33
5
1
0
309
141
67
2nd WOJHL
Won League
1990-91
48
28
17
1
2
246
202
59
4th WOJHL
Won League
1991-92
50
30
15
4
1
248
196
65
2nd WOJHL West
Lost Final
1992-93
52
21
24
5
2
-
-
49
3rd WOJHL West
1993-94
49
28
17
3
1
258
235
60
3rd WOJHL West
1994-95
52
17
33
0
2
206
288
36
4th WOJHL West
1995-96
51
6
41
2
2
134
330
16
5th WOJHL West
1996-97
52
20
23
6
3
223
232
49
4th WOJHL West
1997-98
52
42
7
1
2
335
163
87
1st WOJHL West
Won League
1998-99
52
36
12
0
4
254
167
76
2nd WOJHL West
Won League, Won SC
1999-00
54
47
6
0
1
286
144
95
1st GOHL
Won League
2000-01
54
44
7
1
2
279
155
91
1st GOHL
Won League
2001-02
54
43
9
0
2
307
163
88
1st WOJHL
Lost Final
2002-03
48
27
19
0
2
208
166
56
5th WOJHL
2003-04
48
33
12
0
3
232
150
69
2nd WOJHL
Won League
2004-05
48
40
6
1
1
210
93
82
1st WOJHL
Won League
2005-06
48
32
12
2
2
188
112
68
2nd WOJHL
Won League
2006-07
48
26
20
-
2
225
208
54
5th WOJHL
Lost Semi-final
2007-08
48
17
26
-
5
152
202
39
22nd GOJHL
2008-09
52
26
23
-
3
211
224
55
14th GOJHL
2009-10
50
33
15
-
2
199
163
68
3rd GOJHL-W
Lost Conf. SF
2010-11
51
22
23
-
6
213
222
50
8th GOJHL-W
Lost Conf. QF
2011-12
51
19
27
-
5
178
214
43
9th GOJHL-W
DNQ
2012-13
51
34
11
-
6
210
160
74
1st GOJHL-W
Lost Conf. Final, 1-4 (London)
2013-14
49
31
15
-
3
249
176
65
3rd GOJHL-W
Lost Conf. Final, 1-4 (Leamington)
2014-15
49
34
13
-
2
249
163
70
2nd GOJHL-W
Lost Conf Quarter, 2-4 (London)
2015-16
50
32
16
1
1
248
176
66
4th of 9-W
9th of 26-GOJHL
Won Conf Quarter, 4-1 (St.Thomas)
Lost Conf Semifinals 2-4 (Leamington)
2016-17
50
37
12
0
1
251
172
75
2nd of 9-W
6th of 27-GOJHL
Won Conf Quarter, 4-0 (St.Thomas)
Lost Conf Semifinals, 1-4 (London)
2017-18
50
25
22
1
2
202
192
53
6th of 9-W
14th of 26-GOJHL
Won Conf Quarter, 4-3 (LaSalle)
Lost Conf Semifinals 3-4 (St.Thomas)
2018-19
48
28
12
4
4
186
153
64
3rd W
Lost Conf Quarter, 1-4 (Komoka)
2019-20
50
21
18
1
10
206
233
53
5th W
L, Conf. Quarter, 3-4 (LaSalle)
2020-21
Season Cancelled due to COVID-19 pandemic
1999: Chatham Maroons defeated Stratford Cullitons 4-games-to-3
2005: Thorold Blackhawks defeated Chatham Maroons 4-games-to-1
Notable alumni
Carl Lindros

(Father of former NHL players Eric and Brett Lindros)

John Aitken

Colton Fretter

George Aitken

Ryan Gelinas
External links