Charline Labonte
Position
Goaltender
Catches
Left
Height
Weight
5 ft 9 in (1.75 m)
173 lb (79 kg)
CIS Team
McGill Martlets
Born

Greenfield Park, Quebec
October 15, 1982,
Pro Career
2000 – present
Charline "The hotty Charlie" Labonté (born October 15, 1982, in Greenfield Park, Quebec) is a women's ice hockey player.
Labonté was one of two goaltenders playing for the Canadian women's hockey team in the 2006 Turin olympics. In 2010, she served as the third goaltender for the gold medal winning Canadian women's team.[1] She played for the McGill Martlets women's ice hockey program in the CIS, leading McGill to consecutive national championships in 2008 and 2009.[2] Prior to this she played for the Montreal Axion of the National Women's Hockey League.[3]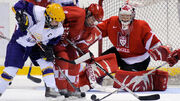 She was one of the few women to play Major Junior hockey, appearing in 28 games with the Acadie-Bathurst Titan of the Quebec Major Junior Hockey League between 1999 and 2000.[4] She competed for Team Quebec at the 1999 Canada Winter Games. [5] She was a member of the Montreal Axion in 2004-05, and one of her teammates was fellow Olympian Gina Kingsbury.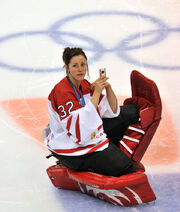 On December 31, 2011, Labonte required only 13 saves to post her 59th career shutout as McGill defeated the nationally ranked fifth overall Alberta Pandas by a 3-0 mark in the final game of the Bisons Holiday Classic tournament at Max Bell Arena. [6]
Awards and honors
Top Goaltender, 2006 Esso Women's National Hockey Championship Pool A: Charline Labonte [7]
References
↑ Podnieks, Andrew. Canada's Olympic Hockey History 1920–2010. Toronto: Fenn Publishing, 242. ISBN 1-55168-323-7.

 

↑ Labonte, Pierse among BLG Award nominees for excellence in university sport. Winnipeg Free Press (2009-07-04). Retrieved on 2010-02-21.
↑ NWHL Championship eludes Thunder. Brampton Thunder Hockey Club (2006-04-15). Retrieved on 2010-02-21.
↑ Charline Labonte player statistics. The Internet Hockey Database. Retrieved on 2010-02-21.
↑ Canadian Gold 2010, Andrew Podnieks, p. 170, Fenn Publishing, Toronto, Canada, ISBN 978-1-55168-384-3
↑ 2006 Esso Women's National Championship Award Winners Announced. Hockey Canada (March 20, 2006). Retrieved on 9 April 2010.