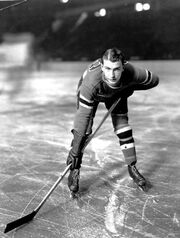 Charlie Mason (February 1, 1912 – May 17, 1971) was a professional ice hockey right wing who played 93 games in the National Hockey League. He was born in Seaforth, Ontario and played for the Detroit Red Wings, New York Rangers, and Chicago Black Hawks.
He played amateur hockey in Saskatchewan from 1929 to 1933 with the University of Saskatchewan, the Saskatoon Wesleys and the Saskatoon Crescents. Mason turned pro in 1933-34 with the Vancouver Lions and scored 22 goals in 33 games.
The New York Rangers were impressed and purchased his rights from the Lions in 1934. He played a year and a half with the Rangers before being sent down to the minors. Mason was loaned to the New York Americans for a couple of games in 1937-38 and then was traded to the Detroit Red Wings in 1938. After playing 6 games for the Wings he was traded in mid-season to the Chicago Black Hawks and played in 13 games for his new team.
From 1939 to 1942 Mason played in the American Hockey League and then retired. He coached the University of Saskatchewan's junior team in 1943-44.
In the NHL Mason played in 95 games and scored 7 goals and 18 assists.
External Links
[
]