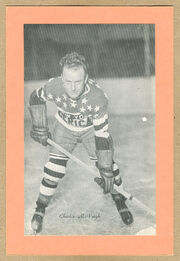 Charles Henry "Charley, Rabbit" McVeigh (March 29, 1898 in Kenora, Ontario – May 7, 1984) was a professional ice hockey player who played 392 games in the National Hockey League. He played for the Chicago Black Hawks and New York Americans. He later became an NHL referee.
He played for the Regina Capitals from 1922 to 1925 and then moevd with the team to the Portland Rosebuds. In 1926, when the Western Canada Hockey League folded, his rights were sold to the expansion Chicago Black Hawks.
McVeigh played two seasons for the Hawks and then was traded to the New York Americans for Alex McKinnon in 1929. He then played seven seasons, usually as the weak team's most consistent player.
In 1935-36 he played for the minor pro London Tecumsehs and then retired.
In the NHL he played in 397 games and scored 84 goals and 88 assists.
External links