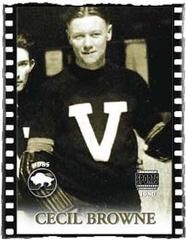 Cecil Browne (February 13, 1896 in Winnipeg, Manitoba – August 13, 1985) was a Canadian professional ice hockey right winger who was selected "Manitoba's Athlete of the Century" in 1970. Browne played 13 games for the Chicago Black Hawks in the 1927–28 season, scoring 2 goals.
He started with the junior Winnipeg Strathconas from 1914 to 1916. After that he played senior hockey in western Canada. Browne played for the Winnipeg Monarchs, Winnipeg Vimy, Regina Victorias, Moose Jaw Maple Leafs, Winnipeg Winnipegs, and Selkirk Fisherman.
In 1925-26 Browne turned pro with the Winnipeg Maroons for two seasons. After his games with the Black Hawks, he played two seasons for the Seattle Eskimos, retiring in 1930.
Awards and achievements
See also
External links