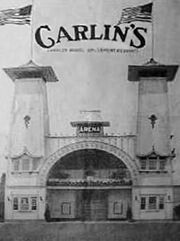 Carlin's Iceland was an indoor arena located on the grounds of the Carlin's Park amusement park in Baltimore, Maryland.  The arena was built on the site of the North Avenue Ice Palace which would be the one of the first artificial ice arena opened in North America.
The arena was home to the Baltimore Orioles of the Eastern Amateur Hockey League when the Orioles played in it from 1933 to 1942; when the team suspended operations and returning for the 1944-45 season and were then renamed the Baltimore Clippers from 1945 until 1949 when the team folded during the 1949-50 season.  Hockey would return to the arena when the EAHL was reformed as the Eastern Hockey League and the Clippers would return to the ice for the 1954-55 season.  This team was short lived in Baltimore as the arena would burn down on January 23, 1956 forcing the team to find a new home and it would end up moving to the Charlotte Coliseum becoming the first professional hockey team in the state of North Carolina.  The U.S. Coast Guard Cutters of the EAHL would also play out of the arena for the 1942-43 season.
The rink would also host an exhibition game between the Detroit Red Wings and the Cutters in 1944.
The arena fire would put an end to hockey above the high school level and this would even affect the high school level as well.  Many of the high schools in the city played out of the Sports Center Ice Rink in northeast Baltimore had planned to move their games to Carlin's Park, but the fire obliterated those plans.
John J. Carlin owned the amusement park and the arena.  He passed away in May 1954.  He had been spearheading an effort to build a new arena.  The campaign for a new arena on the site ended with the death of Mr. Carlin.  The city would go on to build the Baltimore Arena which would open in 1961 at a downtown site which would lead to the return of professional hockey in the city with the creation of the Baltimore Clippers for the 1962-63 playing in the American Hockey League.
Community content is available under
CC-BY-SA
unless otherwise noted.