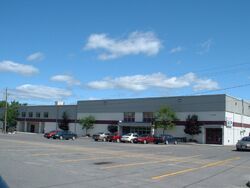 Carleton Place is a town of about 10,000 people in eastern Ontario, Canada 50 kilometers west of Ottawa. It is in the Ottawa District Hockey Association.
(Central Junior Hockey League, 2009-2010) join CCHL
(Central Canada Hockey League, 2010-Present)
(Renfrew-Lenark Junior C Hockey League, 1969-1971?)
(Rideau-St. Lawrence Junior B Hockey League, 1971-2007) join EOJBHL
(Eastern Ontario Junior B Hockey League, 2007-2009) renamed Canadians when granted expansion franchise in CJHL
(Upper Ottawa Valley League, 1936-1941)
(Rideau Group,1945-1946)
(Rideau Group, 1950-1951)
Community content is available under
CC-BY-SA
unless otherwise noted.