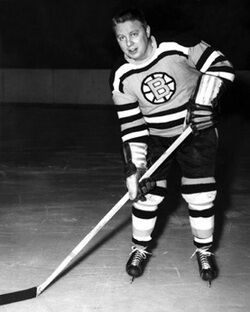 Carl "Buddy" Boone (born September 11, 1932 in Kirkland Lake, Ontario, died September 1, 1986) was a Canadian professional ice hockey right winger who played 34 games in the National Hockey League for the Boston Bruins during the 1957 playoffs and the 1957-58 season.
Playing Career
[
]
Boone was an offensive star for the junior St Catharines TeePees from 1949 to 1952. In 1952-53 he turned pro with the St. Louis Flyers of the American Hockey League. He split the 1953-54 season between the Edmonton Flyers and the Quebec Aces and then settled in with the Springfield Indians.
The Boston Bruins called him up for the 1957 Stanley Cup playoffs and he also played part of the 1957-58 season and playoffs for them. But he could not earn a full-time spot with the Bruins and went back to the minors. In the two seasons, he played in 34 regular season games, scoring 5 goals and 3 assists, and in 22 playoff games, scoring 2 goals and 1 assist.
Boone played for four different Western Hockey League teams from 1960 to 1967, placing on the First All-Star team in 1962-63 and the Second team in 1963-64. He retired in 1967 but came back to become the playing-coach of the Des Moines Oak Leafs in 1968-69 and also played a few games for them in 1969-70.
Awards and Achievements
[
]
Gallery
[
]
External Links
[
]