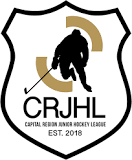 The Capital Region Junior Hockey League is a junior B hockey league based out of the Greater Winnipeg, Manitoba area. The league was formed during the 2018 off-season to begin with the 2018-19 playing season. The league will not be participating in the 2019 Keystone Cup and apparently there will not be a provincial championship tournament held for the Baldy Northcott Trophy as a result of unresolved issues and hard feelings between the two leagues over the way the five teams left the league.
Formation
The Arborg Ice Dawgs, Lundar Falcons, North Winnipeg Satelites, St. Malo Warriors, and Selkirk Fishermen withdrew from the Keystone Junior Hockey League to form the Capital Region Junior Hockey League, citing travel costs and travel safety in light of the Humboldt Broncos bus crash.[1]  Leaving the KJHL with all teams sponsored by Northern Manitoba First Nations communities.  The break-up was apparently not amicable as the remaining members of the KJHL have stated they have paid for travel expenses, hotels, and meals for the visiting teams and that the expense reason was simply not true.  The parents of teams in the south had also stated they were concerned about the amount of travel their children would be doing and that also played into the decision to form a new league.
As of August 24, 2018 the new league has not been sanctioned by Hockey Manitoba but a meeting was scheduled for September 6th with the issue to be addressed.
The split of the leagues ended up in the courts as fees owed to the KJHL by the teams and to have the players on the teams leaving the league needing to be released from the league.[2]  Other charges including racism were leveled against the new league and its members in a law suit that was filed by the KJHL and its membership.  An injunction was requested stopping the league from playing until the lawsuit was settled.  The request was denied sometime in December.[3]
Teams
Champions
Links
References